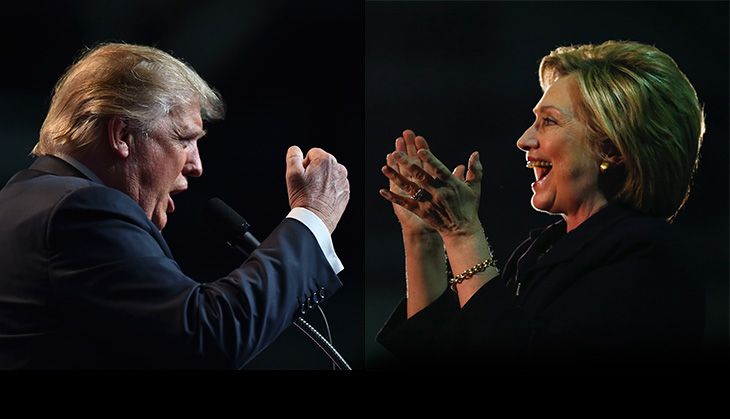 On 7 June, Hillary Clinton became the Democratic party's presumptive presidential nominee for the US Elections.
With her nomination, Clinton has become the first woman in the history of the United States' elections to secure a presidential candidature from a major party.
Clinton has 1,812 pledged delegates from primaries and caucuses, while Bernie Sanders has 1,521. She also has the support of 571 superdelegates, compared to 48 for Sanders as reported by the Associated Press.
The AP declared Clinton the presumptive nominee by reaching out to superdelegates who had not announced which candidate they were supporting. The AP said that enough superdelegates were backing Clinton to help her clinch the magic number of 2,383.
Senator Sanders, however, has been relentless in his fight against Clinton, and has refused to secede even after the AP numbers were made public.
A spokesperson for the Bernie Sanders camp has reportedly said that it is erroneous to count the votes of superdelegates before they cast their votes at the Democratic National Convention in Philadelphia this July.
The declaration of Clinton having secured the presumptive Democratic presidential nomination came a day ahead of the last major day of primary season, with New Jersey, California and four other states, where Bernie Sanders and Hillary Clinton are neck-and-neck.
"I got to tell you, according to the news, we are on the brink of a historic, historic, unprecedented moment, but we still have work to do, don't we?" Clinton said. "We have six elections tomorrow, and we're going to fight hard for every single vote, especially right here in California."
If Democratic-socialist Bernie Sanders is truly out of the race, Hillary Clinton's Presidential nomination, which is set to be confirmed on 25 July during the Democratic National Convention, is a monumental win for women.
Despite the fact that her proposed economic policies have received flak - not to mention the barrage of criticism surrounding her statements - it cannot be argued that when pitted against Donald Trump - who deems women to be gold-diggers (among the other name-calling he has resorted to) - Clinton may just be the safest bet for left-wing Americans and feminists alike.