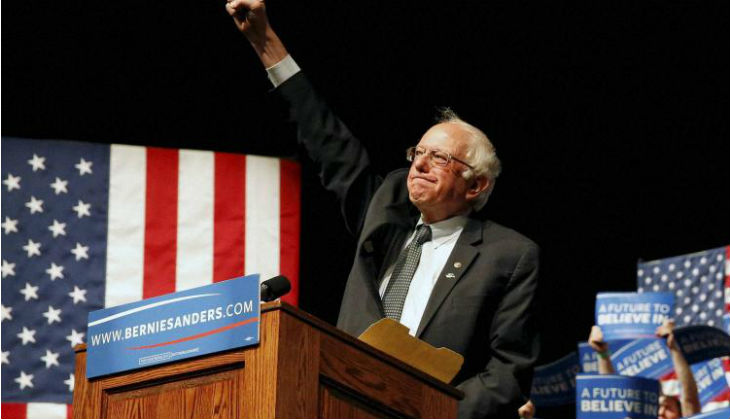 Former Secretary of State Hillary Clinton was leading over Senator Bernie Sanders by just over 1,000 votes in the Kentucky Democratic primary, with 99% of the votes counted. So she wins (unofficially) this round by a very very thin margin.
A socialist senior citizen has given her a run for her money. And huge green backs, by the way. Hillary Clinton spent a lot of resources on television and radio advertisements before the Kentucky vote in hopes of ending Sanders' two-week winning streak.
Winning is important for the former Secretary of State to get a momentum before the primaries in California and New Jersey in early June.
The Democratic Party still does not have its ducks in a row. Who would have thought that it would be the Dems and not the Republicans who wouldn't have got their act together? "Bernie or bust!" has caught the imagination of the millennials and they are not ready to throw in the towel just yet.
Bernie hasn't given them the signal that he is willing to walk out into the sunset. No marg-darshak mandal for this aging politician!
There is a revolt brewing in the Democratic Party. Over the weekend, Bernie Sanders' supporters went crazy at the Nevada State Democratic Convention, indulging in cursing, shouting, obscene gestures, smashing furniture, nasty insults and repulsive sexist comments.
On Tuesday, the Nevada Democratic Party sent a formal complaint to the Democratic National Committee, saying Sanders backers and campaign officials "actively incited disruption and violence" at the convention. The anti Hillary energy in the Sanders supporters is dividing the party vertically.
While the Donald Trump campaign juggernaut rolls with fury all across America and media outlets around the world, Hillary Clinton finds herself unable to focus on fighting him as she is distracted by Sanders' barbs.
The race is reaching a critical phase and if Sanders is not able to control his supporters and if he doesn't back out, then the Democratic schism could seriously sabotage the party's chances of beating the Republicans.
As per a poll conducted by the news channel NBC, Americans are evenly split between their choice of Trump or Clinton; her margin over Trump narrows from 5 points last week to 3 points this week; 48% to 45%.
But Sanders feels he is the man who can beat Trump, not Hillary. Sanders' campaign manager Jeff Weaver told CNN, "He certainly has said that he will do everything - he will work seven days a week, night and day, to make sure Donald Trump is not president, and I'm confident that he will do that. "
What can Hillary do if Sanders refuses to retire from the race? She could get Bill Clinton to pitch in. But that might backfire because the Trump camp will dredge up his unsavory past, including the Lewinsky scandal.
The trump card however would be if President Obama backs Hillary and most pundits say that BO is itching to jump into the campaign wagon. But he cannot do so till things become clearer as to who is the Dem presumptive nominee.
It would be a dream team: Hillary and Obama campaigning together. A nightmarish situation for Donald Trump. Washington DC is full of stories of how the two love each other and hate each other.
The 'outsider' that the Obamas were eight years ago, is a thing of the past. BO and his wife are very much a part of the establishment now and their backing to the Clinton couple would give wind to their sails.
But that is only if Hillary clinches the nomination. She cannot let Trump dominate airtime any more.
She has to get out there and fight it out, not get distracted by the fight back home in her own yard. Sanders still holds the cards on that game.
-ANI