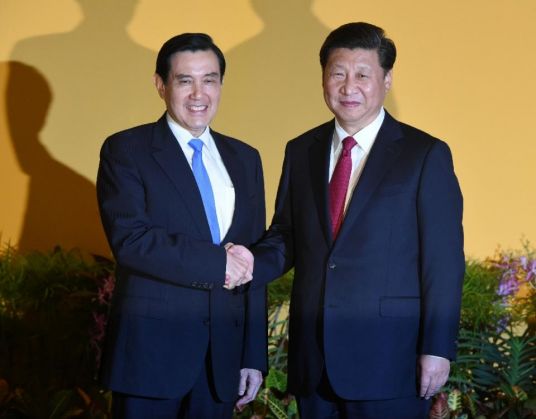 The United States welcomed the historic meeting between the leaders of China and Taiwan today, calling for further progress in reducing tensions and promoting stability.
China's Xi Jiping and Taiwan's Ma Ying-jeou shook hands in Singapore in the first such meeting between leaders of the two sides since Taiwan broke away from communist-ruled China in 1949.
"The United States welcomes the meeting between leaders on both sides of the Taiwan Strait and the historic improvement in cross-strait relations in recent years," State Department spokesman John Kirby said.
"The United States has a deep and abiding interest in peace and stability in the Taiwan Strait, and we encourage further progress by both sides toward building ties, reducing tensions, and promoting stability on the basis of dignity and respect," he said.
The two leaders met for more than an hour and exchanged warm words.
"We are a family whose blood is thicker than water," Xi said.
China, which regards Taiwan as a renegade province, has long pursued a goal of reuniting it with the mainland.
"Behind us there is more than six decades of cross-strait separation. Now before our eyes are the common fruits of the policy of replacing opposition with dialogue," Ma told Xi.
-PTI