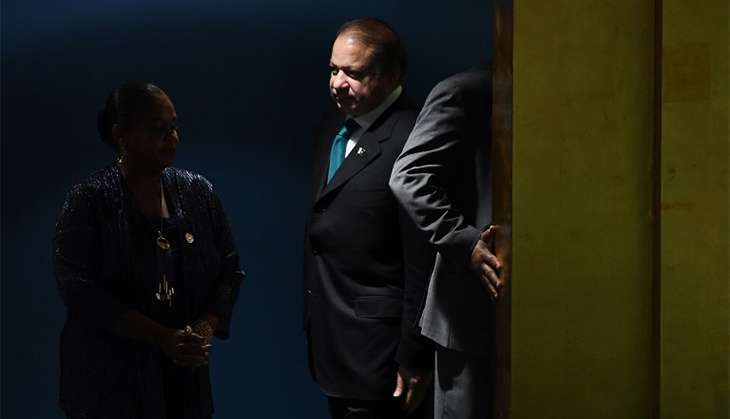 Pakistan drew massive criticism from India and many other countries for portraying itself as a victim of terrorism at the United Nations General Assembly.
Pakistan's Prime Minister Nawaz Sharif's speech finds mentions of Islamophobia, turmoil in the Middle East, tragedy of Palestine, suffering in Afghanistan and of course, Jammu and Kashmir and India's relationship with Pakistan.
India retaliated with Pakistan's relentless incursions in Jammu and Kashmir as well as its state sponsored terrorism wreaking havoc in the country.
Here are the key developments that marked the UNGA
1. Pakistan Prime Minister Nawaz Sharif spoke at length about the Kashmir issue.He condemned the violation of human rights by Indian security forces in Kashmir and supported the self-determination of Jammu and Kashmir.
He demanded free and fair plebiscite held under UN auspices.
He also described slain Hizb-ul-Mujahideen commander Burhan Wani as a symbol of the latest "Kashmiri Intifada".
Also Read: Full text: Pakistan Prime Minsiter Nawaz Sharif's UN General Assembly speech
2. Baloch and Indian activists protested outside the UN headquarters against Pakistan, while Sharif addressed the UN General Assembly.
Also Read: Baloch group protest Sharif's UNGA speech, say Pakistan army is Islamic State in uniform
Slogans of 'Free Balochistan', 'Save World from Pakistan Terror', 'Remove Pakistan from the UN' were raised.
3. Immediately after Sharif's speech, official spokesperson of the Ministry of External Affairs of India, Vikas Swaroop slammed Pakistan on Twitter.
Also Read: Nawaz Sharif's UN speech: Pakistan PM glorifies Burhan Wani, India hits back
4. Exercising its Right to Reply, senior diplomat at India's UN mission, Eenam Gambhir slammed Pakistan for raising the Kashmir protest and glorifying terrorist Burhan Wani.
Gambhir also accused Pakistan of committing war crimes ad spoke about Pakistan's long-standing policy of sponsoring terrorism.
Gambhir then went on to calling Pakistan a terrorist state that finances and supports terrorist groups.
Also Read: UNGA: India's response to Pakistan PM Nawaz Sharif's speech; full text here
5. Minister of State for External Affairs MJ Akbar held a press conference at India's permanent mission and described Sharif's speech as non-factual and full of "threat bluster".
Also Read: Nawaz Sharif's UNGA speech was full of threats & complete disregard of facts: India
He said India will not succumb to Pakistan's blackmailing tactics and criticised Sharif for glorifying Wani.
Akbar added that Pakistan indulged in ethnic cleansing of its own people, reports Indian Express.
Minister of External Affairs Sushma Swaraj will address the 71st session of the United Nations General Assembly (UNGA) on 26 September and is expected to bring up Kashmir as a dominant point in her speech.
She is also expected to include Balochistan and Sindh's demand of cessation from Pakistan in her speech.