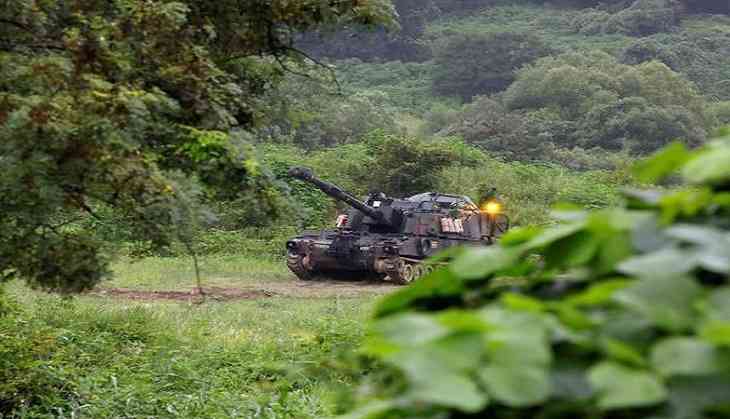 The United States and South Korea kicked off their annual joint military exercises on Monday amid North Korea warning that the drills are "reckless behavior driving the situation into the uncontrollable phase of a nuclear war."
Both the United States and South Korea has insisted that the 10-day military drills are defensive in nature, but North Korea has condemned the joint exercises as rehearsals for invasion.
"We have no intention of raising military tensions on the Korean Peninsula," South Korean President Moon Jae-in said.
U.S.-South Korean military drills known as 'Ulchi-Freedom Guardian' are being carried out when the tensions between Washington and Pyongyang have escalated to such an extent that Kim Jong-un has threatened to launch four ballistic missiles into waters near Guam, home to major American military bases in the Western Pacific.
After North Korea tested two inter continental ballistic missiles in the month of July, United States President Donald Trump issued another stern warning to North Korea saying, "better get their act together or they're going to be in trouble like few nations ever have been in trouble in this world".
Warning on the US-South Korea military upcoming exercises, North Korea on Sunday said, "The Trump group's declaration of the reckless nuclear war exercises against the DPRK ... is a reckless behavior driving the situation into the uncontrollable phase of a nuclear war," CNN quoted Rodong Sinmun (North Korea's official newspaper of the Central Committee of the Workers' Party) stating, using the acronym for Democratic People's Republic of Korea, the nation's official name.
The newspaper described North Korea as the "strongest possessor" of intercontinental ballistic missiles capable of striking the US mainland from anywhere.
"The Korean People's Army is keeping a high alert, fully ready to contain the enemies. It will take resolute steps the moment even a slight sign of the preventive war is spotted," it said.
Pyongyang also declared that its army can target the United States anytime, and neither Guam, Hawaii nor the US mainland can "dodge the merciless strike."
-ANI