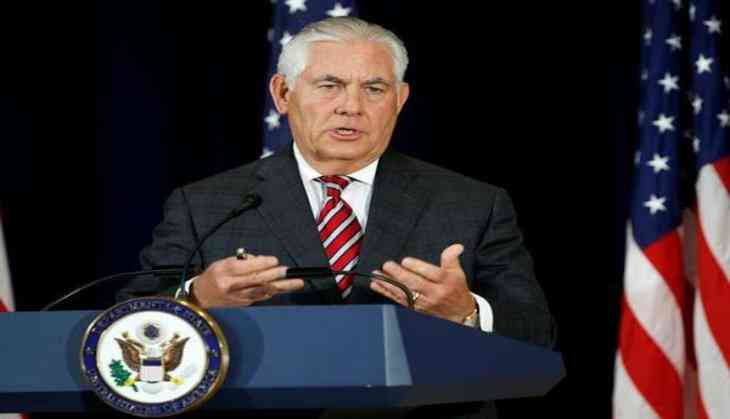 United States Secretary of State Rex Tillerson has issued a statement on Pakistan saying that the nation has suffered greatly from terrorism and can be an "important partner" in U.S.' shared goals of peace and stability, hours after President Donald Trump addressed America at the Joint Base Myer-Henderson Hall and presented his military strategy on Afghanistan.
"Pakistan has suffered greatly from terrorism and can be an important partner in our shared goals of peace and stability in the region," Tillerson said.
"We look to Pakistan to take a decisive action against militant groups based in Pakistan that are a threat to the region," he said.
"It is vital to U.S. interests that Afghanistan and Pakistan prevent terrorist sanctuaries."
Tillerson had a telephonic conversation with the Pakistan Prime Minister on Monday night (U.S.A time).
The U.S. Secretary of State also talked to India's External Affairs Minister Sushma Sawaraj to discuss how they can help in shaping President Trump's new South Asia strategy.
Sec Tillerson spoke w PM of #Pakistan ,FM of #India & FM of #Afghanistan about our new regional approach to conflict in Afg @StateDept

— Heather Nauert (@statedeptspox) August 21, 2017
Referring to India as an 'important partner', Tillerson further said, "India will be an important partner in the effort to ensure peace and stability in the region, and we welcome its role in supporting Afghanistan's political and economic modernisation."
"Our new strategy breaks from previous approaches that set artificial calendar-based deadlines. We are making clear to the Taliban that they will not win on the battlefield. The Taliban has a path to peace and political legitimacy through a negotiated political settlement to end the war," Tillerson added.
During his national address on the Afghanistan war Monday night, Trump said, "Someday, after an effective military effort, perhaps it will be possible to have a political settlement that includes elements of the Taliban in Afghanistan."
"But nobody knows if or when that will ever happen," Trump added.
"Pakistan has much to gain from partnering with our effort in Afghanistan. It has much to lose to harbour criminals and terrorists. In the past, Pakistan has been a valued partner and we worked together against the common enemies," adding that "Pakistan has been sheltering terrorist organisations that try to kill their people."
"We have been paying Pakistan billions of dollars and at the same time they are housing the very terrorists that we are fighting. No partnership can survive if a country is harbouring militants and terrorists to target U.S. service members and officials," Trump said.
Trump further said, "Another part of South Asia strategy for America to further develop its strategic partnership with India, the world's largest democracy and key security and economic partner of the United States."
He further said that they appreciate India's important contribution to bring stability in Afghanistan, but India makes billions of dollars in trade with the United States adding that "we want them to help us more with Afghanistan especially in the area of economic consistence and development."
Tillerson also had a conversation with Afghan Foreign Minister Salahuddin Rabbani on the same matter.
-ANI