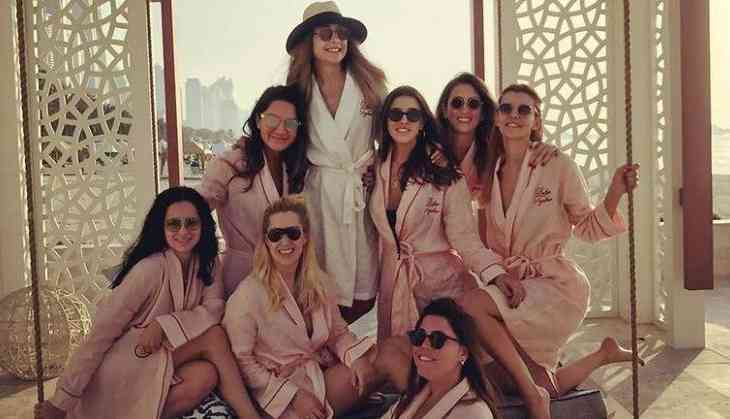 Mina Basaran and seven of her friends were flying back from a party ahead of her planned wedding next month. (Instagram Photo, @minabasaran)
The daughter of a business tycoon and bride-to-be Mina Basaran, along with her seven friends, were onboard the Turkish private jet which crashed in a mountainous region of Iran on Sunday.
The plane, which was reportedly traveling from the United Arab Emirates (UAE) to Istanbul, was flying the 28-year-old heiress of businessman Huseyin Basaran back from her hen party.
According to the Khaleej Times, besides the eight friends, three female crew members were onboard the plane. All eleven are presumed to be dead.
The group had been celebrating in Dubai ahead of her wedding, scheduled for next month.
Turkey's Haber Turk website stated that Mina was to marry businessman Murat Gezer on April 14 in a grand ceremony at Istanbul's Cirali Palace.
The jet is reported to have encountered heavy, rainy weather, crashed into a mountain and burst into flames.
Also Read : NIA summons ex-Nagaland Chief Minister T R Zeliang in 'terror funding' case
Latest victim: #minabasaran. Condolences to Başaran family. Anti satellite electromagnetic noise by Islamic Republic Revolutionary Guards not only deteriorates lives of 80M Iranian citizens but endangers those flying through Iranian aerospace interfering w/ GPS data. @MFATurkey pic.twitter.com/F9R54S5gX3

— Viktoria von Brandenburg (@viktoriavonbran) March 11, 2018
The plane hit a mountain near Shahr-e Kord and burst into flames, Iranian state television quoted Mojtaba Khaledi, the spokesman of the country's emergency management organization, as saying.
Shahr-e Kord is some 370 kilometers (230 miles) south of the capital, Tehran.
Also Read: Two die in NYC's East River chopper crash
A day ago, Mina posted a picture on her Instagram account, which shows her surrounded by smiling friends in sunglasses and dressing gowns.
The photograph has been hashtagged #minasbachelorette and #bettertogether.
The crashed jet - a Bombardier Challenger C600 series - belonged to Mina's father, Huseyin Basaran, of the Basaran Yatirim Holding business conglomerate in Turkey, with interests in construction, tourism, aviation, hotels, food, energy and more, the report said.
--ANI
Also Read: 'The Lost Confession' of ‪‪OJ Simpson leaked, but did he confess murdering ex-wife ‪Nicole Brown Simpsons? Find Out: