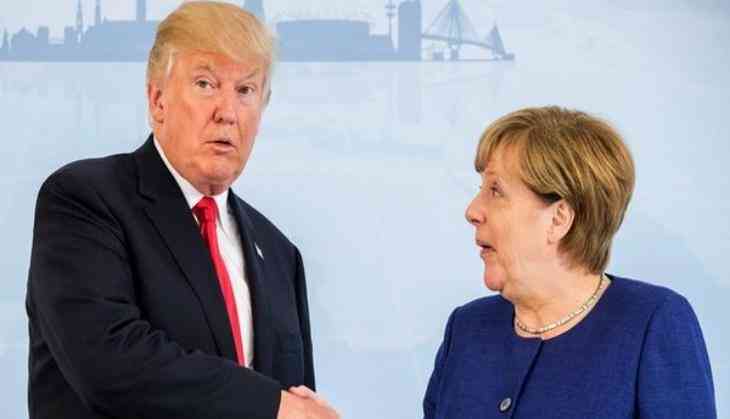 Trump, Merkel start with 'tense' handshake in G-20 summit
President Donald Trump and German Chancellor Angela Merkel on Thursday shared a handshake here in the form of a pre-G20 meeting.
The two leaders met at the Hotel Atlantic Kempinski Hamburg, where they shared a handshake and had a brief conversation, reported CNN.
Earlier in March, Trump did not shake Merkel's hand before cameras during a photo op in their Oval Office meeting, where the two leaders sat next to each other in separate chairs.
Merkel then appeared to ask the President if he wanted to shake hands, which is customary in photo ops, but Trump simply did not respond. He barely even looked at his German counterpart while quickly answering a few questions from the press.
When asked to shake hands by reporters and photographers, Trump and Merkel remained stationary. It wasn't clear if the two heard the request, and the two had shaken hands when Merkel arrived at the White House and they shook hands again after a White House news conference.
Trump's tensed up body-language during the photo-op and his refusal to shake hands with Merkel did not go down well across the globe, as he was chastised for the incidents and many branded his behaviours as rude and "un-President" like.
-ANI