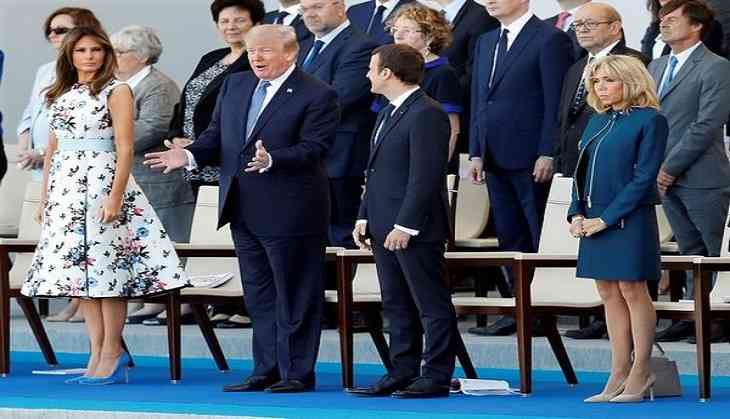 French President Emmanuel Macron attended a Bastille Day military parade alongside his American counterpart Donald Trump.
The parade on Paris's Champs-Elysees commemorated the centenary of the U.S. entering World War I and featured horses, helicopters, planes and troops.
Thousands of French troops marched down the Champs-Élysees to mark the storming of the Bastille military prison in 1789, a turning point in the French Revolution and 150 U.S. soldiers, airmen, sailors, and Marines and aircraft also participated in the parade.
"This is a wonderful national celebration," said Trump during a joint news conference with Macron Thursday, adding, "we look very much forward to it. Spectacular."
"Our two nations are forever joined together by the spirit of revolution and the fight for freedom," he said.
President Donald Trump watched as various French military units marched by during the Bastille Day parade and saluted a combined group of American Army and Navy troops and Marines taking part in the annual event in Paris.
U.S. President Donald Trump touched down in Paris on Thursday to forge a strong relationship with French President Emmanuel Macron.
French President Emmanuel Macron welcomed U.S. President Donald Trump with military fanfare and then visited historic military complex at Les Invalides, built by King Louis XIV, where he was met with a large French army reception and joined Macron in inspecting the troops.
Trump's two-day sojourn to Paris is relaxing amid a row over allegations that his family colluded with Russia to win U.S.presidential election.
Trump and Macron will discuss counter-terrorism, Iraq, Syria bilateral ties and French anti-jihadi military operations in Africa and then hold a joint press conference, the Guardian reported.
France has been under a state of emergency following IS inspired attacks attacks in the capital and other towns.
-ANI