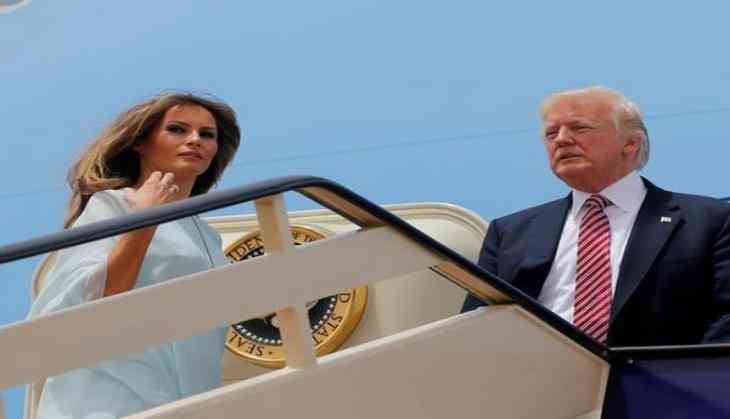 Donald Trump landed in Tel Aviv, Israel on 22 may for the second leg of his first foreign trip as United States President.
During his visit, discussions will be held on the Israeli-Palestinian peace process, regional security issues and reaffirmation the U.S.' commitment to its alliance with Israel.
The visit is the second of three stops on the President's schedule.
Trump arrived in Israel after visiting Saudi Arabia and will next head to the Vatican - home of the Catholic Church.
The President will later head to Jerusalem for a series of meetings, speeches and symbolic visits.
Trump will meet with Israeli Prime Minister Benjamin Netanyahu in Jerusalem and Palestinian leader Mahmoud Abbas in Bethlehem on 23 may.
According to reports, Trump is expected to have bilateral talks with Netanyahu and Palestine President Mahmud Abbas amid tight security.
The U.S. President has earlier said that Israel and the Palestinian state will have to engage in direct talks to resolve all of their issues, including the contentious one of Israeli settlements.
Over half-a-million Jews live in about 140 settlements built since Israel's 1967 occupation of the West Bank and East Jerusalem, land the Palestinians claim for a future state.
The settlements are considered illegal under international law, though Israel disputes this.
The other vexed issue is that of Jerusalem. Israel regards Jerusalem as its capital, while the Palestinians have staked claim to the eastern part as their capital.
The international community, however, does not recognise Israeli sovereignty over Jerusalem.
From Israel, the U.S. President will travel to the Vatican, Brussels and Sicily to meet Pope Francis, attend the NATO Summit and a meeting of the G-7 respectively between May 24 and May 26.
-ANI