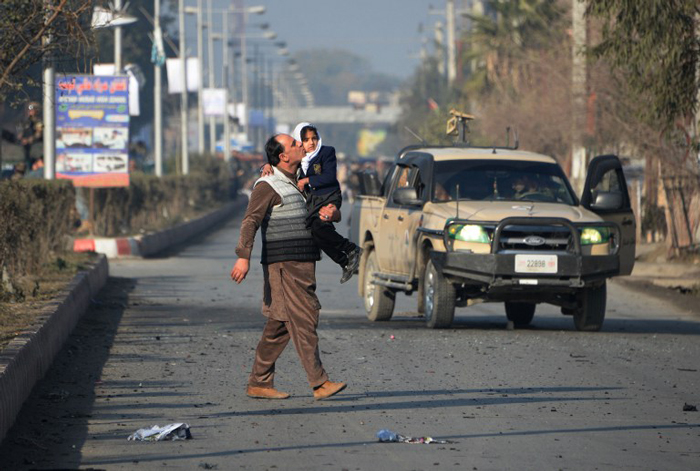 A simple composition of a man carrying his daughter, photographed in the backdrop of today's suicide attack in the Afghan city of Jalalabad, is making rounds of social media.
Taken by AFP photographer Noorullah Shirzada, the photograph has created a space for itself on the otherwise fast-paced social media environment, taking its viewers beyond the headlines and breaking news.
Captioned simply as, "An Afghan man kisses his daughter as he walks near an attack from a building close to the Pakistan consulate in Jalalabad on January 13, 2016," the photo speaks volumes about the state of affairs in Afghanistan and how it has grown in the past few years.
"The photo was taken about 70 meters from the site of the first explosion," explains Shirzada, who rushed to the spot on hearing of the attack near the consulates.
The attack, that took place this morning, and killed seven people and injured several others, took place close to a girls school called Tajrobawee Girls School. At least three students are believed to have been injured. The visuals of the man kissing his daughter who was in a school close to the site of attack has tugged at the heartstrings of its viewers.
"The father was so happy to see his daughter alive," Shirzada narrates the heartwarming moment when the father found his daughter safe. "He was scared after hearing of the attack so close to his daughter's school. And the relief he felt upon finding her is expressed in this photograph," he adds.
It is perhaps that very relief that that moved so many people, especially Afghans, to whom it hits very close to home.
"A picture speaking 1000 words- this is how we live everyday life and pray for the life our loved ones," tweeted Samira Hamidi (sic).
"This is the only thing the war in Afghanistan comes down to, civilians living in fear, being injured and killed. Nothing else," wrote Ali Latifi, an Afghan journalist on his Facebook wall.
"This photo is worth a million words," tweeted Matin Sarfraz, media adviser to the Afghan minister of interior affairs.
"Will this "love" & human compassion prevail over darkness & #terrorism?" tweeted Ramin Anwari.
The photo has been shared several times across Facebook and Twitter and induced social media users to contemplate on the state of social and political affairs in Afghanistan. Afghans civilian casualties saw an exponential spike in 2015 - highest since 2001.
The attack took place in a building in the diplomatic area of the city and was targeted at the Pakistani consulate. An insurgent group that claims allegiance to the Islamic State has claimed responsibility.