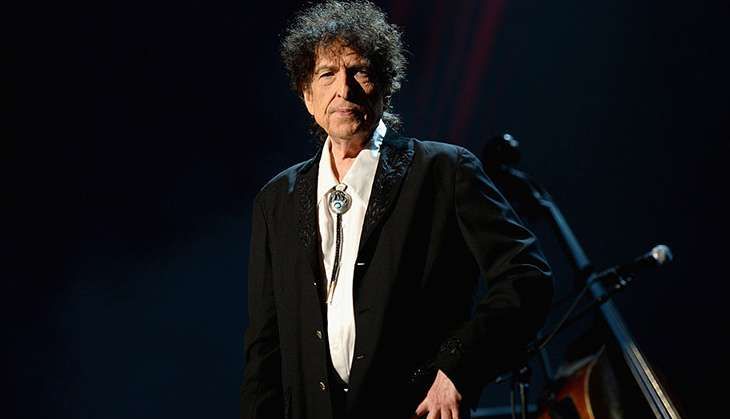 Legendary songwriter Bob Dylan, on 13 October, won the 2016 Noble Prize for Literature. Dylan won the literature honour for having created new poetic expressions within the great American song tradition, the Swedish Academy announced while awarding the 8 million Swedish crown ($927,740) prize.
This is the first time ever a musician has won a Noble Prize for Literature. Inducted into the Rock and Roll Hall of Fame in 1988, Bob Dylan has touched everybody's heart with his long list of beautiful and soul rendering songs.
Here's a list of songs all Bob Dylan fans will have on their playlists:
1. Blowin in the wind
How many roads must a man walk down, before you call him a man?
How many seas must a white dove sail, before she sleeps in the sand?
The answer, my friend, is blowin' in the wind
The answer is blowin' in the wind.
2. Mr. Tambourine Man
Hey ! Mr Tambourine Man, play a song for me
In the jingle jangle morning I'll come followin' you.
Then take me disappearin' through the smoke rings of my mind
Down the foggy ruins of time, far past the frozen leaves
The haunted, frightened trees, out to the windy beach
Far from the twisted reach of crazy sorrow
3. The Times they are a Changing
Come writers and critics, Who prophesize with your pen
And keep your eyes wide, The chance won't come again
And don't speak too soon, For the wheel's still in spin...
For the times they are a-changin'.
4. Don't think twice it's alright
Well, it ain't no use to sit and wonder why, babe even you don't know by now
And it ain't no use to sit and wonder why, babe it'll never do somehow...
You're the reason I'm a-traveling on, but don't think twice, it's all right.
5. Hurricane
She sees the bartender in a pool of blood, cries out "My God they killed them all"
Here comes the story of the Hurricane
The man the authorities came to blame
For something that he never done, put him in a prison cell but one time he could-a been
The champion of the world.
6. Subterranean Homesick Blues
Don't matter what you did, walk on your tip toes
Don't tie no bows, better stay away from those
That carry around a fire hose...
7. Like a rolling stone
Once upon a time you dressed so fine
You threw the bums a dime in your prime, didn't you ?
People'd call, say, "Beware doll, you're bound to fall."
You thought they were all kiddin' you...
How does it feel?
How does it feel
To be without a home, Like a complete unknown
Like a rolling stone ?
8. Tangled up in blue
Early one morning the sun was shining, I was laying in bed
Wond'ring if she'd changed it all, If her hair was still red...
"We'll meet again someday on the avenue"
Tangled up in blue.
9. Masters of War
Come you masters of war, You that build all the guns
You that build the death planes, You that build all the bombs
You that hide behind walls, You that hide behind desks
I just want you to know, I can see through your masks.
10. All Along The Watchtower
"There must be some way out of here" said the joker to the thief
"There's too much confusion", I can't get no relief
Businessmen, they drink my wine, plowmen dig my earth
None of them along the line know what any of it is worth.