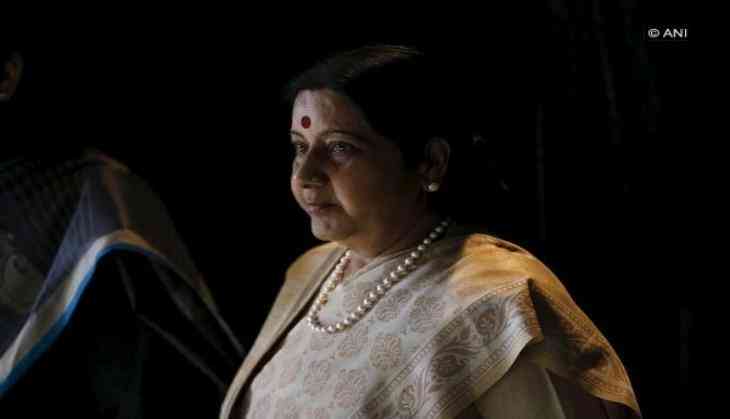 External Affairs Minister Sushma Swaraj will hold her first meeting with the CPN-UML Chairman KP Sharma Oli after her arrival here on Thursday.
According to the Kathmandu Post, Swaraj will convey the "special political message" of Prime Minister Narendra Modi to Oli.
Swaraj will embark on a two-day official visit to Nepal from Thursday, in an effort to reach out to Nepal's political leadership ahead of the formation of a new government by a Communist alliance.
On Monday, the itinerary was finalised by Nepal's Foreign Ministry and the Indian embassy in Kathmandu.
The External Affairs Minister will be accompanied by the new Foreign Secretary Vijay K. Gokhale and Sudhakar Dalela, Joint Secretary (North) of the EAM.
Swaraj will meet Nepali President Bidhya Devi Bhandari and current Nepali Prime Minister Sher Bahadur Deuba. She will also meet Maoist leader Pushpa Kamal Dahal Prachanda and Madhesi leaders.
This will also be Swaraj's first visit to Nepal after the three-tier elections ended in December.
During a recent event in Kathmandu, Indian Ambassador to Nepal Manjeev Singh Puri made it clear that New Delhi was ready to work and cooperate with the new government in Nepal.
The timing of the visit comes at a time when India wants to improve its relations with Oli and his party, Communist Party of Nepal (Unified Marxist Leninist) (CPN-UML).
Relations between the two sides are often described as "patchy", where Oli criticised India's constant hindrance over Nepal's new constitution in 2015, which did not recognise the rights of the Madhesis.
On January 21, Prime Minister Narendra Modi telephoned Oli and congratulated him in advance on his win in the just-concluded Nepal elections and invited each other to visit their respective countries.
--ANI