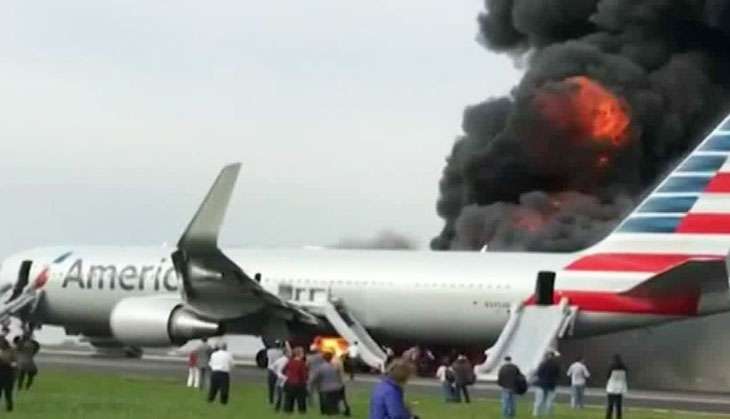 The right-side engine of an American Airlines Boeing 767 failed during an attempted takeoff at Chicago's O'Hare International Airport on 28 October.
The engine failure caused debris to be flung as far as a half-a-mile and the 161 passengers and nine crew members escaped onto the runway using the emergency slides.
According to reports, the right-side engine of the plane suffered an "uncontained failure."
Airport fire chief Timothy Sampey said that the crew responded to a fire on engine number two. The plane at the moment of the fire contained 43,000 pounds of fuel. "This could have been absolutely devastating if it happened later," CNN quoted Sampey as saying. Twenty people were taken to the hospital with minor injuries they suffered during evacuation.
A video tweeted by a witness on the ground showed the airliner with a large column of smoke rising from its right and flames billowing beneath the fuselage. The video showed passengers exiting through the emergency slides on the left of the 767. A dog also evacuated, officials said.
Another video pic.twitter.com/jg58N8x3l8

— Jose 🌏 (@Kryptonlogic) October 28, 2016
Four of the airport's runways were closed still late afternoon Friday, but it did not affect the airport operations.
According to reports, the National Transportation Safety Board will conduct an investigation into the incident.