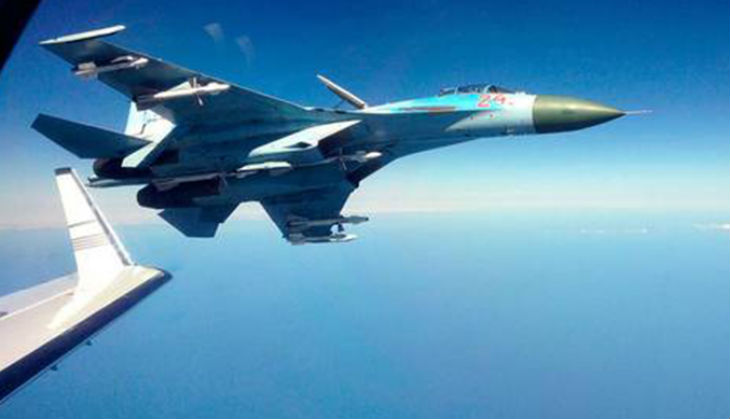 A US Air Force spy plane was barrel-rolled by a Russian SU-27 fighter jet in an "unsafe and unprofessional" manner during a routine flight in international airspace, American officials said on 18 April, exacerbating tensions between the rival powers.
The incident, on 14 April, occurred when a Russian jet "performed erratic and aggressive maneuvers" as it flew within 50 feet of the US aircraft's wing tip over the Baltic Sea, Danny Hernandez, a spokesman for European Command, said.
The Russian SU-27 began the barrel roll from the left side of the US RC-135 and went over the top of it to end on the right side of the aircraft, European Command said.
The US aircraft was "intercepted by a Russian SU-27 in an unsafe and unprofessional manner," Hernandez was quoted as saying by CNN.
"The unsafe and unprofessional actions of a single pilot have the potential to unnecessarily escalated tensions between countries," said Hernandez, who added that the US is protesting the incident with the Russian government.
Pentagon spokeswoman Laura Seal said that the US aircraft had "at no time crossed into Russian territory."
Meanwhile, Russia's defence ministry today denied that a Russian jet that had intercepted a US Air Force plane earlier this week and acted unsafely, dismissing the Pentagon's criticism.
"The entire flight of the Russian plane was conducted in strict compliance with international rules on the use of air space," defence ministry spokesman Igor said in a statement.
"There were no emergency situations," Konashenkov said.
At the same time, Russia said the SU-27 was dispatched to identify an "aerial target travelling toward the Russian border at high speed."
When the RC-135 established visual contact with the Russian jet, the American plane "changed its flight route away from the Russian border," Konashenkov said.
The encounter between the SU-27 and the RC-135 comes just days after the US Embassy in Moscow issued formal concerns with the Russian government over an incident in which Russian fighter jets flew very close to the USS Donald Cook in the Baltic Sea this week.
One of the Russian jets flew within 30 feet of the Cook's ship superstructure, according to a US official.