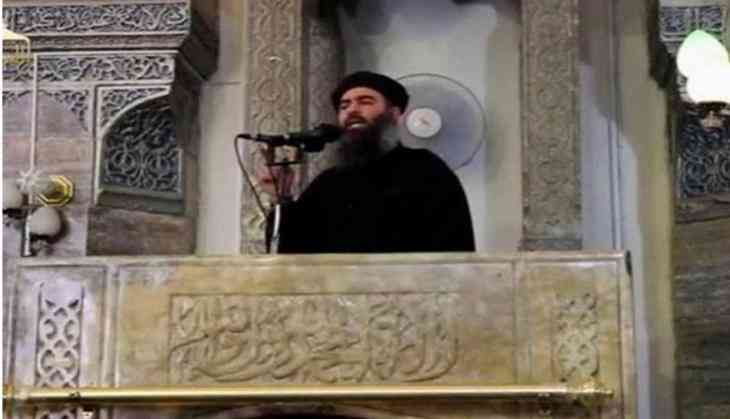 Russia has said that ISIS leader Abu Bakr Al-Baghdadi might have been killed in an airstrike carried out by its forces on the southern suburb of Syria's Raqqa in late May.
However, the Russia's Defense Ministry said that it is still verifying the death of Baghdadi's death after the strike.
The airstrike, which was carried out on May 28, targeted a meeting of the IS group's leaders held in Raqqa, TASS news agency reported.
"According to information, which is being verified via different channels, the meeting was also attended by the IS leader Ibrahim Abu Bakr al-Baghdadi, who was eliminated in the strike," Tass news agency quoted the ministry as saying in a statement.
The Defense Ministry said that a number of high-ranking commanders of the Islamic State terrorist group, including 330 field commanders and militants, were killed by the Russia's Aerospace Forces in the southern suburb of Syria's Raqqa in late May.
"The strike, carried out by Su-35 and Su-34 jets, destroyed high-ranking commanders of the terrorist group, who were part of the so-called military council of the IS, and also some 30 middle ranking field commanders and up to 300 militants who were their bodyguards," the ministry added.
The ministry also noted that the American side was notified in advance through interaction channels about the time and place of the Russian airstrike.
Earlier on Sunday, the Syrian state television reported that the ISIS leader Abu Bakr al-Baghdadi has allegedly been killed in airstrikes.
The reports claimed that Baghdadi was killed in the terrorist group's stronghold in Raqqa.
Representatives of the United States' Army had also reported about the death of the IS group's leader, but later the report was either denied or al-Baghdadi released video messages with calls for his supporters.
It's not, however, the first time the leader of ISIS has been reported dead.
Previous reports claimed that he had been seriously wounded in airstrikes in northern Iraq.
Two years after the start of Syria's civil war in 2011, Raqqa was the first provincial capital to fall to groups, including the Al-Nusra Front, Al-Qaida's then-affiliate in the country.
Raqqa became a key city in ISIS's self-declared caliphate, a hub for the organization's activities and attacks in Syria, Iraq and further afield.
U.S. special operations forces are on the ground, alongside Syrian Kurdish allies in Raqqa where they've begun their advance into the Islamic State's de-facto capital.
-ANI