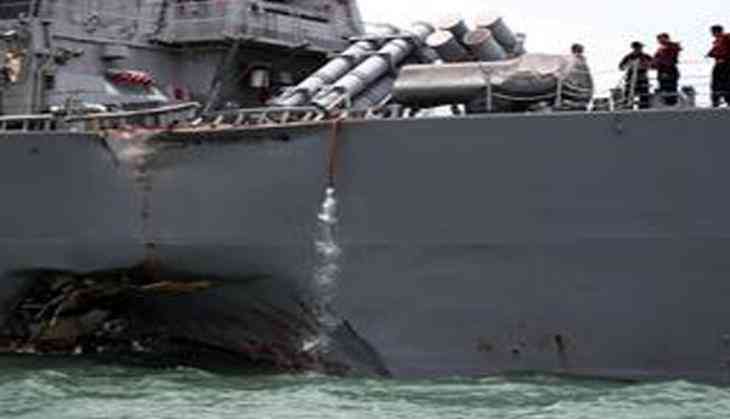 The United States Navy 7th Fleet on 24 August said the remains found by the Royal Malaysian Navy are not those of a missing sailor from the US destroyer collision.
The US Navy in a statement clarified that the finding was made after medical examinations of the remains, which will be returned to Malaysian authorities, the Straits Times reported.
The Malaysian Navy had discovered the remains of the sailors on Tuesday while searching the area where the guided-missile destroyer, USS John S. McCain, collided with the merchant vessel Alnic MC in Singapore waters on Monday.
The U.S. Navy Chief has said that there is no indication that Monday's collision of the US Navy, guided USS John S McCain with a merchant ship Alnic MC in waters east of Singapore was intentional.
Earlier, the US Chief of Naval Operations Admiral John Richardson said that there was no indication as of yet if the warship collision in the Pacific was intentional.
According to the Hill, "When asked if he had any reason to believe the crash was intentional on either side, including cyber or electronic meddling, Richardson said it was "certainly something we are giving full consideration to."
"We have no indication that that's the case, yet. We're looking at every possibility so we're not leaving anything to chance," the Hill quoted Richardson as saying.
The U.S. Navy has ordered an operational pause of its fleets globally and a wide-ranging review of the U.S. Pacific-based 7th Fleet post the warship's collision.
The examination should seek the root causes of the collision, said Richardson, in a video posted on the U.S. Navy's official Twitter account.
At least ten US sailors are missing and five others have been injured in Monday's warship collision.
It was the second U.S. destroyer involved in a collision in the past two months.
In June, the USS Fitzgerald collided with a container ship in waters off Japan, leaving seven sailors dead.
-ANI