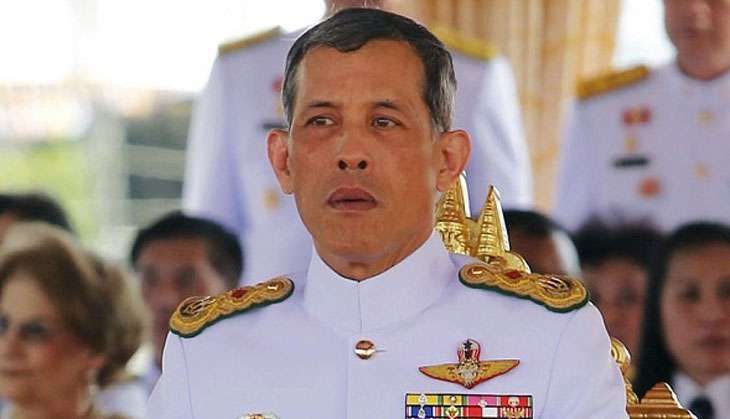 Thailand's king-in-waiting, Maha Vajiralongkorn, was named the crown prince of the country in 1972. Forty six years later, the 64-year-old is all set to ascend to the throne on 1 December 2016.
Vajiralongkorn has big shoes to fill in - considering the loyalty that his father, King Bhumibol Adulyadej, the world's longest-reigning monarch, commanded. The prince - whose full name is Vajiralongkorn Borommachakkrayadisonsantatiwong Thewetthamrongsuboriban Aphikhunuprakanmahittaladunladet Phumiphonnaretwarangkun Kittisirisombunsawangkhawat Borommakhattiyaratchakuman - has an uphill task ahead of him, to say the least.
While King Bhumibol was known for his authoritativeness and his public relations-savviness, his son has often made news for his "questionable antics".
Vajiralongkorn, a graduate of the Royal Miliatry College, Duntroon, Australia is an officer in the Thai military who has trained with the Australian, British, and United States armed services. He is also a qualified military and helicopter pilot. While his military prowess should have made him a force to be reckoned with, the Thai people are reportedly unhappy about their new ruler. Here are six such controversies Maha Vajiralongkorn made headlines for:
The 'playboy king'
When news of Vajiralongkorn's ascension broke - following the death of the 88-year-old Thai king in October 2016 - news portals were awash with headlines calling the crown prince a 'playboy'.
Vajiralongkorn has gained the nickname for his string of marriages - all of which sent the tabloids into a frenzy. He wed Princess Soamsawali Kitiyakara, his first cousin from his mother's side, in 1977. The two, who have a child together, filed for divorce in 1993.
However, for the most of his first marriage, he lived with actress Yuvadhida Polpraserth. The two, who later wed, have five children. Vajiralongkorn filed for divorce, alleging that Polpraserth had an extra marital affair with a 60-year-old air marshal. He allegedly put up poster across the country, accusing her of the affair. In the wake of the scandal, Polpraserth fled the country with their daughter.
In response, Vajiralongkorn, abducted their daughter and brought her back to Thailand, later elevating her to a rank of Princess, while sending the rest of family into exile.
His third marriage - as per records - was to Srirasmi Suwadee in 2001. The marriage ended with the prince throwing her family into prison for two-and-a-half-years on charges of "royal defamation." Srirasmi courted infamy after a 2007 video of her went viral. In the video, she can be seen topless and celebrating the birthday of Vajiralongkorn's beloved poodle Foo Foo.
While Vajiralongkorn has been linked to a number of other women, reports suggest that is is all set to marry a former Thai Airways flight attendant, who is currently living in Munich.
His friendship with ex-Thai PM Shinawatra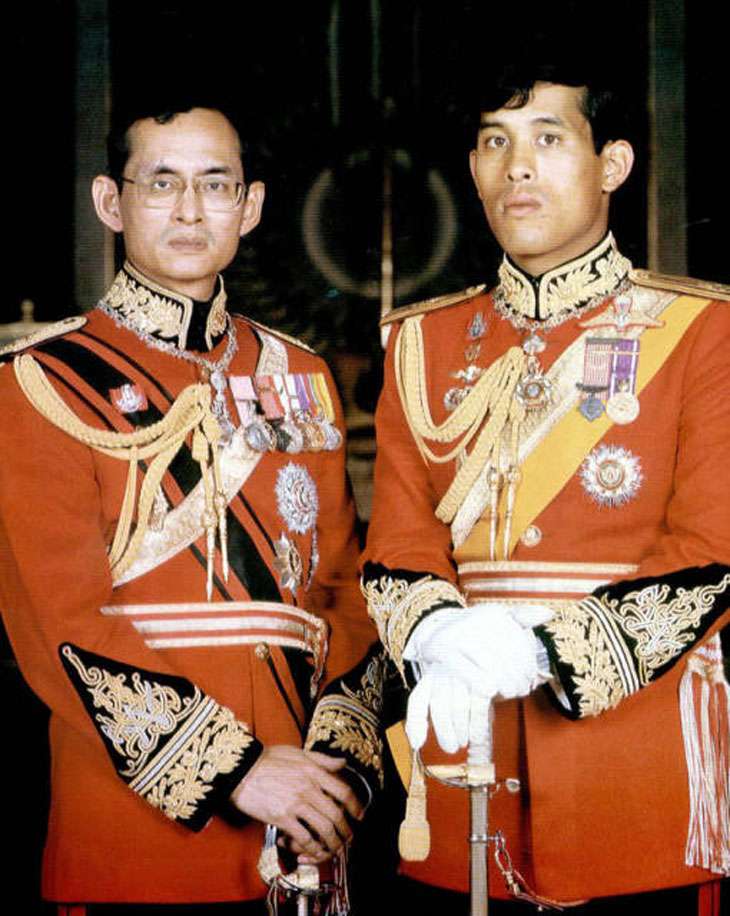 Vajiralongkorn reportedly enjoys a close friendship with former Thai PM Thaksin Shinawatra, who is currently living in exile. PM Shinawatra was caught in a slew of corruptions charges and was alleged to have connections in Bangkok during his reign as PM between 2001 and 2006.
His government was accused of exerting political influence in its crackdown on unlicensed community radio stations, and Thaksin brought massive defamation suits against critical journalists.
According to media reports, Thaksin presented the crown prince with a luxury car when he was first elected in 2001. According to reports, their friendship has sparked fears that Vajiralongkorn might find a support base in the populist politician's voters and consequently, force the country to face the possibility of the return of military dictatorship.
His poodle was the Thai Military's air chief marshal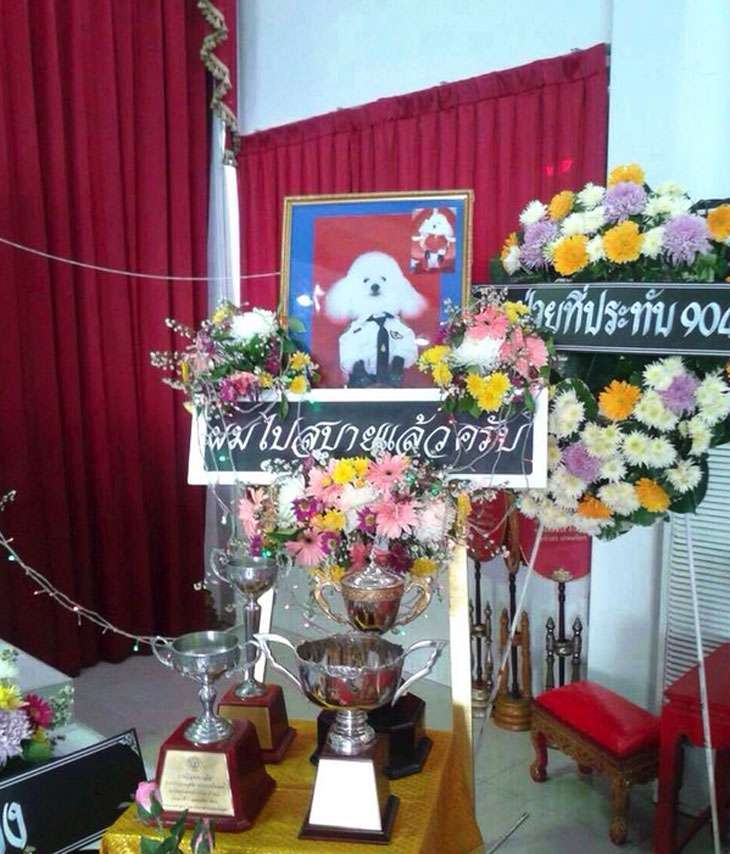 Vajiralongkorn named his pet poodle, Foo Foo, the air chief marshal of the Thai Military. In 2007, he took the pooch to a reception hosted in his honor by US Ambassador Ralph "Skip" Boyce.
"Foo Foo was... dressed in formal evening attire complete with paw mitts, and at one point during the band's second number, he jumped up onto the head table and began lapping from the guests' water glasses," The NewYorkPost quoted Boyce as saying.
When Foo Foo died in 2015, Vajiralongkorn held a four-day funeral - replete with traditional pomp and ceremony - for his beloved pet.
Tragic but true, @PaulHandley2, Foo Foo is finished. pic.twitter.com/L9iPvQerqz

— Andrew MacG Marshall (@zenjournalist) February 4, 2015
A king in a crop-top?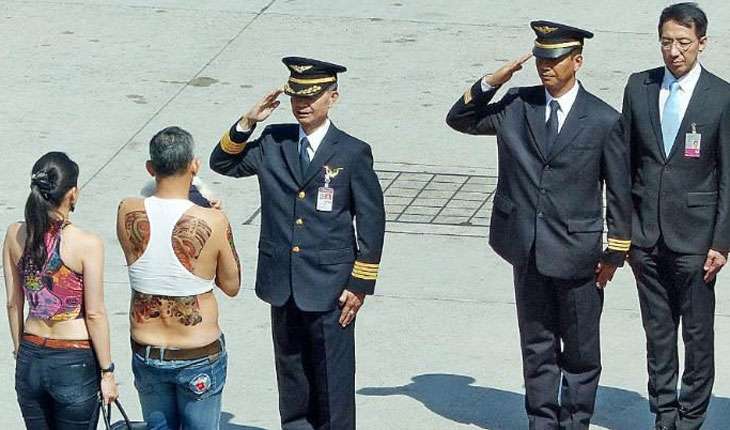 Earlier this year, an image of Vajiralongkorn wearing a crop-top and jeans went viral. The photo was snapped at a Munich airport, where the king-in-waiting was accompanied by a woman carrying a poodle.
No apparent successors
Women are banned from the throne in Thailand, effectively ruling out Princess Maha Chakri Sirindhorn from taking over from her father, despite being a relatively more popular choice.
What's more, Vajiralongkorn has disowned four of his sons, who are currently living in exile - thereby casting doubt on the blood line of the monarchy.
No fans, both in and outside Thailand
A US diplomatic cable leaked in 2010 revealed that some Thai officials had implied to the US ambassador that Thailand would be better off if the Crown Prince did not become King.
International affairs columnist Jonathan Manthorpe referred to the Thai royal as a "hated man" in an article in iPolitics in April this year.
"Vajiralongkorn is a wastrel and a vindictive womaniser. Unlike the revered King Bhumibol, Vajiralongkorn is widely disliked by the general public -- and hated by those who know him. The palace and its loyalists among Thailand's class-conscious elite fear that if Vajiralongkorn comes to the throne, he will usher in a period of revolutionary upheaval that could destroy the structure of Thai society," he wrote.
SouthEast Asia Globe quoted Pavin Chachavalpongpun, a Thai political scholar - in self-imposed exile in Japan - as saying that Vajiralongkorn would likely consolidate his relationship with Prayuth and the country's ruling military junta.
"It is likely that he will cling on to the military as a key ally... In so doing, he might not be ready to work with democratic institutions. This could be bad news for Thailand," the article quoted the scholar as saying.