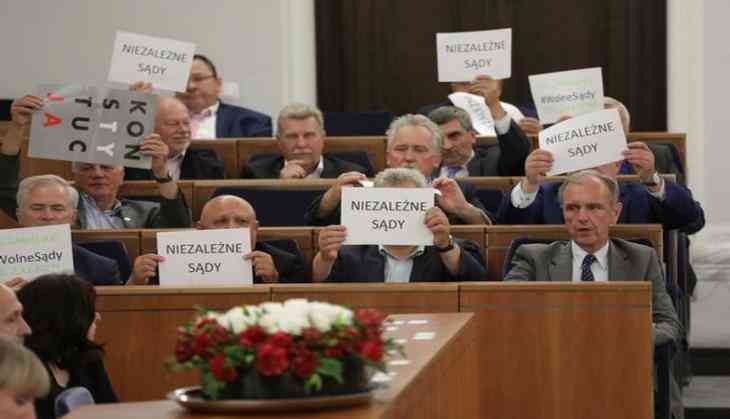 Poland's Senate has approved a contentious law that gives politicians substantial influence over Supreme Court,defying the European Union and critics who say the legislation will undermine democratic checks and balances.
Huge protests were witnessed in Warsaw and cities across Poland against the draft bill as the senate debated it late into the night.
Some protesters carried Polish and European Union flags, chanting: "Free courts."
To become law, the proposed bill has to be signed by President Andrzej Duda, an ally of the ruling conservative Law and Justice (PiS) party. Duda has so far followed the ruling party line.The vote was 55-23 with two abstentions. The eurosceptic PiS argues new rules are needed to make the judiciary accountable and efficient.
The reform bill will empower parliament and the justice minister to appoint judges to the Supreme Court.The opposition, critics in Brussels and judges' groups in Poland say the legislation is a new step by the Polish government towards authoritarianism.
EU leaders say the bill will kill judicial independence and threaten the rule of law in the EU's largest member in central and Eastern Europe. The U.S. Department of State voiced concern Friday.
The United States urged Poland to ensure any changes should respect the constitution. "We urge all sides to ensure that any judicial reform does not violate Poland's constitution or international legal obligations and respects the principles of judicial independence and separation of powers," it said in a statement.
Since coming into power in 2015, the ruling conservative Law and Justice (PiS) party has sought to tighten government influence over courts, and brought prosecutors and state media under direct government control.
Duda has so far not accepted an invitation for talks on the issue from European Council President Donald Tusk, a former Polish prime minister, Japan Times reported.
Tusk repeated his readiness for talks and said he was a "little disappointed" there has been no meeting.
"Poland's president should be concerned about a situation that is, let's say, serious," Tusk said.
-ANI