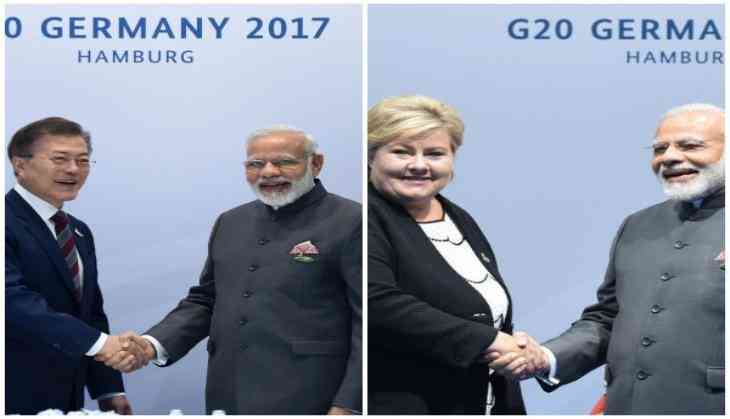 Prime Minister Narendra Modi on Saturday held discussion with South Korean President Moon Jae-in on the sidelines of the G-20 Summit in Hamburg, Germany.
During the meeting, both leaders expressed their commitment to further develop the special strategic partnership between India and South Korea, particularly through participation in programmes such as 'Make in India', 'Digital India' and 'Start up India'.
Prime Minister Modi also extended an invitation to President Moon to visit India, which the latter accepted.
Prime Minister Modi also held discussions with Italian Prime Minister Paolo Gentolini and Prime Minister of Norway Erna Solberg.
The Indian and Italian leaders focussed on promoting bilateral relations, particularly trade and investment and people-to-people ties.
Prime Minister Modi invited Italy's participation in World Food India - the food processing exhibition to be held in India in November this year.
The two leaders stressed on the significance of promoting interaction between medium enterprises of the two countries for strengthening bilateral economic cooperation. The Prime Minister of Italy appreciated Indian investments in his country, including in industrial sector. The two leaders also discussed ways and means to work together for providing sustainable solutions to prevent climate change and promote development in Africa.
Meanwhile, Prime Minister Modi and the Prime Minister Solberg discussed bilateral matters, especially strengthening of economic relations. The Indian leader invited participation of Norwegian pension funds in the National Investment and Infrastructure Fund.
Prime Minister Solberg on his part invited India to participate in the Oceans' Conference on the sidelines of the UNGA.
In a gesture symbolising cooperation for attainment of Sustainable Development Goals (SDG), Prime Minister Solberg presented to Prime Minister Modi, at the end of the meeting, a football with SDGs inscribed on it.
-ANI