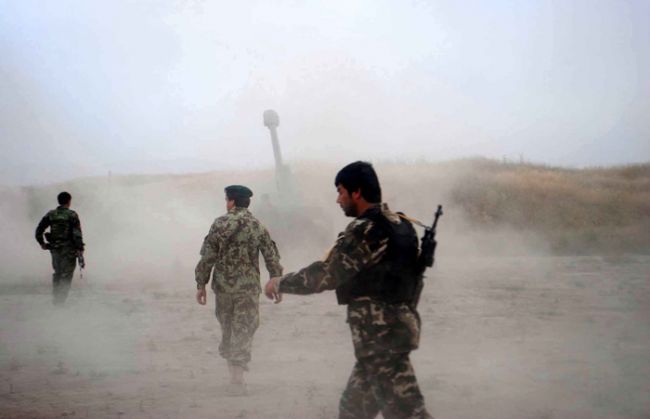 In a bizarre turn of events, Pakistani generals were made to dress up in burqas (veils) and hide in coffins to flee Kunduz after Afghan security forces managed to recapture the city from Taliban forces.
According to local officials, the Taliban maneuvered the strategy to help generals escape from security forces after the US bombing stuck a hospital in Kunduz on Saturday. The attack on the Doctors Without Borders hospital, which killed 22, drew international furore.
Police spokesman Sayed Sarwar Hussaini told news networks that the security and intelligence organisations had found the militants whisking away some Pakistani generals in coffins while others dressed up as women to exit the city.
Meanwhile, other media reports have quoted Gen. Murad Ali Murad, the ground forces commander as accusing the Pakistani military officials of entering Kunduz City to lead last week's battle. Hardened insurgents from Chechnya, Uzbekistan, Pakistan and Tajikistan participated in the battle for Kunduz adding to an already simmering battleground.
Also read: Why bombing Kunduz hospital was a war crime
There has been a number of contradictory reports from officials and residents in Kunduz city. While the officials claim the situation is under control, the residents have stated quite the opposite. Here's an example from The New York Times report:
Sediq Sediqqi, the spokesman for the Ministry of Interior: "Residents of Kunduz yesterday managed to come out of their homes in a secure environment to buy necessary household items and take a peaceful breath."
Military officer stationed in the center of Kunduz: "None of the streets in the south or north of the city are secure enough for our security forces to walk on," he said. "As soon as they go out on the street, they get attacked." Residents, as a result, were staying indoors in most of the city."
Citizen living in the central Bandar Khan Abad area: "We are not even able to sneak out. As soon as we looked out of the gate, we drew fire from Taliban and Afghan forces as well."
Provincial Council deputy head Amruddin Wali told PajhWok Afghan News: The Taliban fire from people's houses on security forces. This situation must end as soon as possible to prevent possible collateral damage.
Local residents are perplexed over the battle as they cannot ascertain which side - the Taliban or Afghan security forces - presides over the city, as the ground realities keep changing constantly.
Meanwhile, amidst all the insurgency and fighting, Taliban seems to be advancing and gaining lost ground in the battle for Kunduz by taking the fight beyond the city.