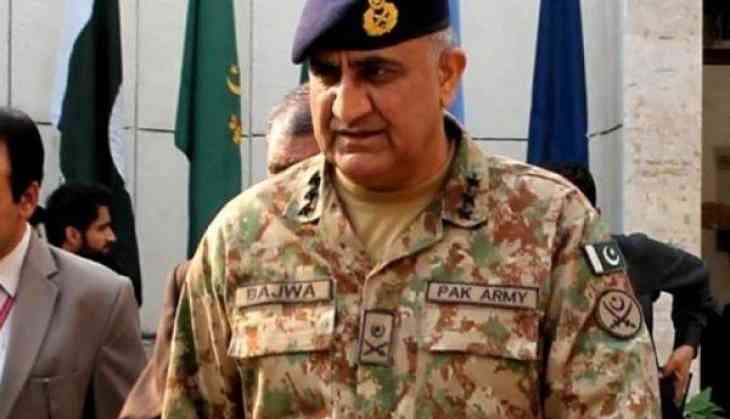 After the new government of Imran Khan's leadership has formed in Pakistan, on the expectations of better relations between India and Pakistan, Pakistan Army chief Kamyar Javed Bajwa, has dared to provoke India by saying that they will avenge the blood of its soldiers being shed on the border'.
The army chief Bajwa again reiterated the Kashmiri rage. He said that in the fight for freedom we are with Kashmir. We salute the sacrifice of the brothers and sisters of Kashmir. We will avenge blood on the outskirts'.
I salute the people of India-Occupied Kashmir who have stood firm and are fighting bravely: Pakistan Army Chief General Qamar Bajwa (6.9.18) pic.twitter.com/SjyBK5FgO4

— ANI (@ANI) September 7, 2018
On Pakistan's 53rd Defence Day ceremony held at the General Headquarters (GHQ) in Rawalpindi, army chief Bajwa along with Prime Minister Imran Khan paid tribute to Pakistani soldiers. He then said that all the soldiers of Pakistan are united for the 'defence of their motherland'
On the occasion of the 53rd anniversary of the 1965 war with India, the Pak army chief Bajwa said bitterly as the 65 war serves as an important lesson to Pakistani youth even today. Pakistani media Dawn News quoted Bajwa as saying: "It is the day when the armed forces, with the full support of the nation, defeated an 'evil adversary' Every Pakistani was the nation's soldier. We were all united to defend our country and played our respective roles. Our soldiers jumped into the fiery pits of warfare but did not let our nation be harmed."
He said that the country has lost 76,000 soldiers so far in defence of Pakistan. Their sacrifice will not be forgotten. In the program organized in Islamabad, Pakistan Prime Minister Imran Khan, President Mamnoon Hussain was also present.
Also read:SP Vaid removed as J&K police chief, days after Kashmir kidnappings and terrorist's release; Dilbagh Singh to take over