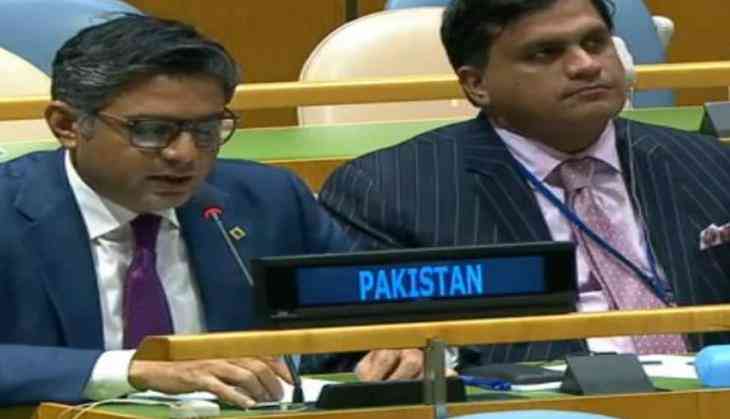 Pakistan's First Secretary to the UN again raised the issue of Jammu and Kashmir, in his address at the United Nations, and asked Afghanistan to eradicate terrorists from its soil.
"The people of the Indian-occupied Kashmir look towards the international community, especially the members of the U.N. security council to deliver on their pledge to hold free and fair and impartial plebiscite under the U.N. auspices to enable them to decide their future," the First Secretary of Pakistan said, while addressing Islamabad's Right of Reply, during the general debate of the 72nd Session of the United Nations General Assembly.
"It is unfortunate that India has chosen to criticise the statement by the Prime Minister of Pakistan, Shahid Khaqan Abbasi. It reflected the sentiments and aspirations of the oppressed people of Jammu and Kashmir facing tryanny, pressure and brutalities of illegal and unjust occupation by India. The plight of the Kashmiri people at the hands of the Indian occupation forces is being documented by the international community and reputable human rights organisations," the Pakistan First Secretary to the UN added.
"Let me re-emphasise and reject any misconceptions that India may have and wish to create. New Delhi is responsible for undermining the regional peace and stability. I have this ardent duty to inform you that only yesterday, due to provoked firing and mortar shelling by the Indian forces on the Line of Control in the state of Jammu and Kashmir at least 10 innocent civilians, including many women have lost their lives on the Pakistani side. The shelling continues unabated - a sad reminder of the Indian forces' stubbornness. This too shall fail the strategy of offensive defence and double squeeze flouted abatedly by NSA Ajit Doval, which India believes can create regional hegemonic can never succeed."
"Indian operators of mayhem and terror such as commander Kulbhushan Jadhav was caught red-handed in Pakistan, while spreading sabotage, terrorism and espionage can never fulfill Indian dreams it will remain just that dreams," he concluded.
Pakistan reacted after India described Islamabad as a 'terroristan'.
"In its short history, Pakistan has become a geography synonymous with terror. The quest for a land of pure has actually produced the land of pure terror. Pakistan is now Terroristan," India said, in a statement addressed to the United Nations general assembly president.
Making use of its right-to-reply, India's First Secretary to the United Nations, Eenam Gambhir said, "In its short history, Pakistan has become geography synonymous with terror. The quest for a land of pure has actually produced "the land of pure terror". Pakistan is now 'Terroristan', with a flourishing industry producing and exporting global terrorism."
In his first remarks to the U.N. general assembly, Abbasi had attacked India, accusing New Delhi of carrying out war crimes in Kashmir.
" For our Bangladeshi brothers and sisters let me add they have to come out from the narrative of fate and dispel their twisted notions of history there are no takers of their contentions the issues of 1971 agreed and settlement under the tripartite agreement of 1974 signed between India and Bangladesh , we have to move on."
Pakistan's first secretary concluded his statement by slamming Asharf Ghani government, saying, "Afghanistan instead of blaming others for its problems and failures should focus on eradicating safe havens for terrorists in its ungoverned space and deal with its war economy and narco state that is a major threat to regional peace and stability."
-ANI