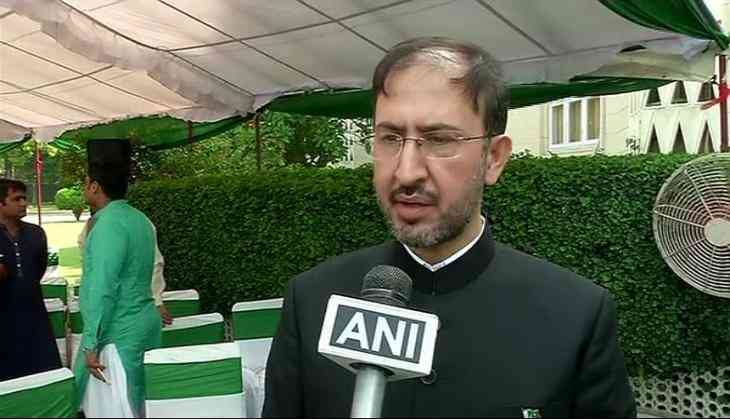 Pakistan's acting High Commissioner to India Syed Haider Shah on 14 August urged New Delhi to work together with Islamabad for the creation of a peaceful region.
"The way Pakistan is celebrating its independence, we also congratulate the people of India for the independence of their country and we hope there will be peace in this region and both our countries, in fact all the others in this region (subcontinent), will work together for the creation of a peaceful region," Shah told ANI during his country's 70th Independence Day celebrations at the Pakistan High Commission in New Delhi.
Shah unfurled the Pakistani flag at an elegant and impressive flag hoisting ceremony held on the Chancery's lush green lawns.
Pakistani nationals, high commission officials and representatives of the country's Armed Forces also took part in the celebrations.
The envoy read out the Independence Day messages from the President and the Prime Minister of Pakistan.
A female student of Pakistan High Commission School Iman Sarwar delivered a speech, while other students of the Pakistan High Commission School presented national songs and tableaus.
Palwasha Haider, wife of the acting High Commissioner, gave away prizes and gifts to the teachers and children of the school.
Shah, along with his wife, also cut a cake to mark the 70th Anniversary of Pakistan.
Pakistan was created out of a partitioned Indian subcontinent on August 14, 1947.
It came into existence as a result of the Pakistan Movement, which aimed for the creation of a separate Muslim state by partition of the north-western and north-eastern regions of undivided India.
The movement was led by the All-India Muslim League under the leadership of Muhammad Ali Jinnah.
This was facilitated by the British parliament passing the Indian Independence Act 1947, thereby giving recognition to Pakistan.
-ANI