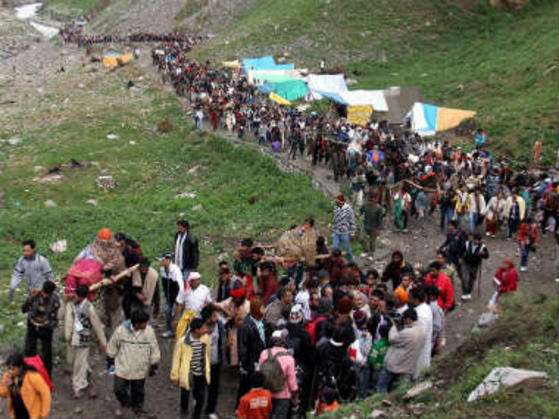 On 30 May, the Ministry of External Affairs(MEA) confirmed that around 150 pilgrims, who were stuck in inclement weather on their way to Kailash Manasarovar en-route Nepalganj-Simikot-Hilsa, have been evacuated.
"As many as 50 pilgrims have been evacuated from Hilsa to Simikot and around 100 from Simikot to Nepalganj. However, due to bad weather only a limited number of sorties could be carried out on Simikot-Hilsa sector by helicopter yesterday (on Sunday). Today, the rescue operations have again started, but bad weather is hampering work," MEA official spokesperson Vikas Swarup said in a statement.
According to the Nepal Police, there are currently around 250 pilgrims in Hilsa and almost a similar number of pilgrims in Simikot.
"Today (on Monday), evacuation operations have started, but are being hampered by inclement weather. Our Mission in Kathmandu is in touch with senior officers such as Chief Secretary, Foreign Secretary, Home Secretary, Chief of Army Staff, DGMO, etc, as well as senior police authorities on the ground," said Swarup, adding they are continuing to be seized of the matter and have assured all possible assistance subject to weather conditions.
Swarup that while there is no shortage of essential items, the situation can normalise only when regular air services can be undertaken in an uninterrupted manner every day.
"Our Mission is deploying First Secretary (Consular) Pranav Ganesh and a staff member to Simikot for situational awareness and coordinating with tour operators and GON agencies on the ground," he added.
The MEA organises this yatra during June to September each year through two different routes - the Lipulekh Pass in Uttarakhand and the Nathu La Pass in Sikkim. The yatra is open to eligible Indian citizens holding valid Indian passports who wish to proceed to Kailash Mansarovar for religious purposes.
The Kailash Mansarovar Yatra, which is known for its religious value, cultural significance, physical beauty and thrilling nature, has been recognised by the Indian Mountaineering Foundation as a trekking expedition. It is undertaken by hundreds of people every year and holds religious importance for Hindus, Jains and Buddhists.
--ANI