In the wake of the deadly attack that was unleashed on a group of party-goers at Orlando's Pulse nightclub, several theories - speculating on what may have prompted gunman Omar Mateen to take the lives of 50 innocent people - have emerged.
In the early hours of Sunday, 29-year-old Mateen, a US citizen with Afghan roots, opened fire on the 350 odd people inside the nightclub - who were attending a Latin music event to mark gay pride week.
With 50 dead and about 53 injured in the shooting, the Orlando massacre is the worst mass shooting in the history of the United States.
While the Islamic State has reportedly claimed responsibility for the attack, and reports of Mateen making a 911 call pledging allegiance to the Islamic State during the attack have emerged, the intention behind the massacre has not yet been ascertained.
"We weren't aware of any action he is taking. We are in shock like the whole country", Omar Mateen's father Seddique Mateen was quoted to have said in a PTI report.
A 29-year-old New York-born Florida resident, and son of immigrants from Afghanistan, Mateen had been questioned twice by FBI agents in the recent past.
Mateen's father, a self-proclaimed Afghan political activist, pointed out that his son's actions were not triggered by his religious beliefs. "They were kissing each other and touching each other and he said, 'Look at that. In front of my son, they are doing that," senior Mateen was quoted to have said, talking about his son's reaction to the sight of two gay men kissing.
Omar Mateen's father says suspect is married w/3-year-old son & "got very angry" when son saw 2 men kissing https://t.co/BbhaKrF7fw #Orlando

— AM Joy w/Joy Reid (@amjoyshow) June 12, 2016
A report in The Daily Beast however claims that Omar Mateen hasn't always been a homophobic bigot.
Mateen was a different person a decade ago, claims Samuel King - who worked with him at the Treasure Coast mall - where Mateen was employed after high school.
King was quoted to have said that Mateen was "openly gay, with long, flowing extensions, and prettier hair than most of his female co-workers". "He always had a smile on his face. Maybe it's because he was working in customer service", King was quoted as saying.
"That's the thing that's pinning me to the wall the most, that it was a gay nightclub," King said. "Because he would come into the [the restaurant] and laugh with us." "He might have even sat down at the bar and had a drink and laughed with the bartenders, knowing that they were lesbians," he added.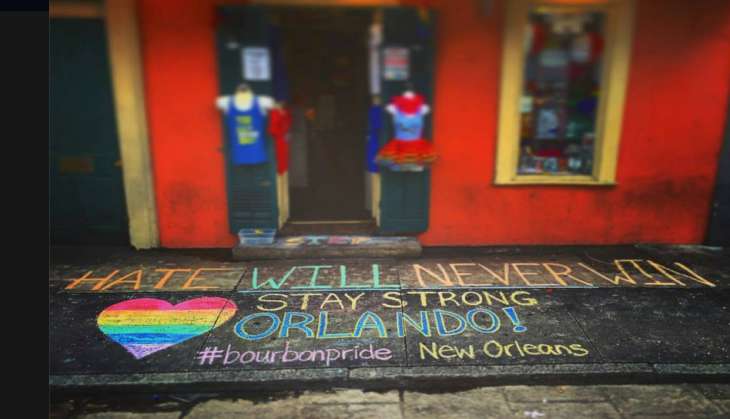 Orlando Shooting Facebook | Bethee Wood
Mateen evolved into a different person over time, his co-workers claim.
Referring to Mateen as "unhinged and unstable", Daniel Gilroy, his colleague from the security agency G4S, said he wasn't surprised at the way things had unfolded.
"He was just agitated about everything, always shaken, always agitated, always mad," A New York Times report quoted Gilroy as saying. "He talked about killing people all the time," Gilroy said. He also claimed to have made several complaints to their employer about Mateen's 'loud, profane presence'.
Mateen's abusive personality got in the way of his marriage as well, reports claim. "He was not a stable person... He beat me. He would just come home and start beating me up because the laundry wasn't finished or something like that," his ex-wife Sitora Yusufiy told the Washington Post.
Sitora met Mateen online eight years ago and moved to Florida to be with him. Once her parents caught wind of the abuse, she said, they flew down to Florida and forcibly removed her from the house.
"There were definitely moments when he'd express his intolerance towards homosexuals," Yusufiy said, further establishing Mateen's homophobic stance.