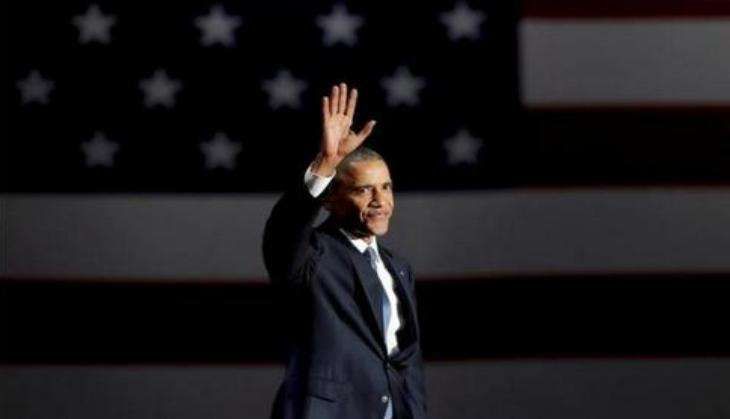 United States President Barack Obama said goodbye to his nation on 11 January in an emotional address enriched with wisdom and optimism, asserting that he would never give up on his vision for change and reminding Americans that they made him a better leader.
"This is where I learned that change only happens when ordinary people get involved, get engaged, and come together to demand it," Obama said from a packed hall of supporters in his adopted hometown.
"After eight years as your President, I still believe that," he went on. "And it's not just my belief. It's the beating heart of our American idea -- our bold experiment in self-government."
As he spoke before a loud crowd of supporters, Obama was interrupted often with screams of "I Love you Obama." A protester holding a "Pardon All of Us" sign, chanting of "four more years" drowned out the shouts.
Acknowledging his successor Donald Trump, saying he was committed to a peaceful transition of power, Obama warned that going forward Democrats shouldn't fall in line with their commander-in-chief.
"Democracy does not require uniformity," Obama said. "Our founders quarreled and compromised, and expected us to do the same. But they knew that democracy does require a basic sense of solidarity -- the idea that for all our outward differences, we are all in this together; that we rise or fall as one."
Obama further urged Americans to work harder to understand each other's struggles.
"Brown kids will represent a larger share of America's workforce" in the years ahead, Obama proclaimed, calling for better rules that will help the children of immigrants succeed.
He warned that "laws alone won't be enough" in resolving persistent differences between Americans.
"Hearts must change," he said.
The President stated that African-Americans and minorities must view with empathy "the middle-aged white man who from the outside may seem like he's got all the advantages, but who's seen his world upended by economic, cultural, and technological change."
And he urged whites to regard the protests of minorities as a fight "not demanding special treatment, but the equal treatment our Founders promised."
"Regardless of the station we occupy, we have to try harder," Obama said. "To start with the premise that each of our fellow citizens loves this country just as much as we do; that they value hard work and family like we do; that their children are just as curious and hopeful and worthy of love as our own."
Obama then turned his address towards his family, and in a voice quivering with emotion, called on his wife and two daughters, thanking them for their constant love and support.
"Michelle -- for the past twenty-five years, you've been not only my wife and mother of my children, but my best friend. You took on a role you didn't ask for and made it your own with grace and grit and style and good humor. You made the White House a place that belongs to everybody. And a new generation sets its sights higher because it has you as a role model. You've made me proud. You've made the country proud," he said.
Declaring to the world how proud he was of his daughters - Sasha and Malia, Obama stated that under the strangest of circumstances, they have become two amazing young women, smart and beautiful, but more importantly, kind and thoughtful and full of passion.
"You wore the burden of years in the spotlight so easily. Of all that I've done in my life, I'm most proud to be your dad," he added.
The cheers of the crowds almost refused to die down when Obama turned his attention to Vice President and good friend Joe Biden, saying that he had gained a brother in him.
"To Joe Biden, the scrappy kid from Scranton who became Delaware's favorite son: you were the first choice I made as a nominee, and the best. Not just because you have been a great Vice President, but because in the bargain, I gained a brother. We love you and Jill like family, and your friendship has been one of the great joys of our life," the President said.
He ended his address by reiterating the slogan from his campaign, "Yes We Can. Yes We Did," to a thunderous applause that refused to die down.
-ANI