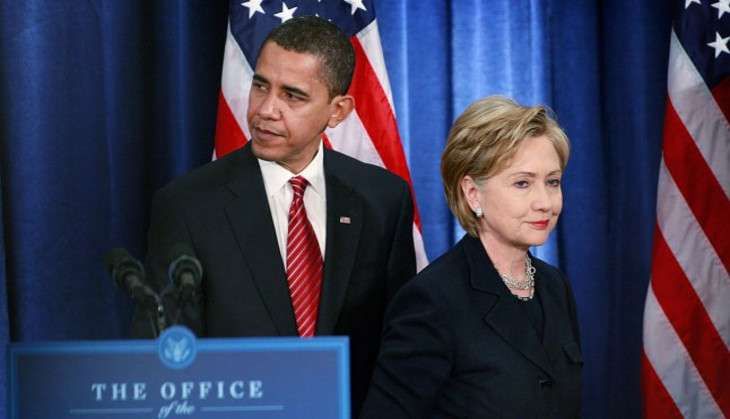 US President Barack Obama extended his support to Hillary Clinton as he likened the presidential race between the former Secretary of State and real estate tycoon Donald Trump to a choice between "future and imaginary past".
"This is a choice between whether we are going to cling to some imaginary past or whether we're going to reach for the future," President Obama said in his maiden campaign rally in support of Clinton at Charlotte in North Carolina on 5 July.
"This November, in this election, you are going to have a very clear choice to make; between two fundamentally different visions of where America should go. And this isn't even really a choice between left and right or Democrat or Republican," he said in his address to thousands of Clinton supporters.
"This is about whether we have an America that works for everybody, or just a few people," President Obama said, making a passionate plea to his countrymen to support his former Secretary of State for the next presidential elections on 8 November.
In his address, President Obama made no mention of the FBI decision not to recommend a charge sheet against Clinton. He said he values her experience and judgement.
In 2008, Obama created history by becoming the first non-White male to be elected as the president of the US. If elected, Clinton will be the first woman to be elected as the president of the US.
"Hillary is not somebody who fears the future. She believes that it is ours to shape, the same way it's always been. Hillary understands that we make our own destiny as long as we're together, as long as we think of ourselves not as just a collection of individuals or a collection of interest groups or a collection of states, but as a United States of America," President Obama said.
"She knows that. She knows that when it comes to our economy. Because she knows our economy works best not when it only benefits a few at the top, but when everybody's got a fair shot at success," he said.
Without naming Trump, President Obama lashed out at the Republican presidential nominee. "A bunch of phony bluster doesn't keep us safe. And she understands that we can't retreat from a world that needs American leadership," he said.
"That's why she offers a smarter approach that uses every element of American power to protect our people and to protect our allies. She is and will be a stateswoman who makes us proud around the world," President Obama said.
Obama and Clinton were scheduled to kick off their joint rally from Wisconsin last June.
However, that was cancelled because of the shooting at an Orlando gay club. The US Vice President Joe Biden will join Clinton on the campaign trail on Friday.
"I agree with Hillary that our democracy works best when there are basic bonds of trust between us, when we recognise that every voice matters. The people who disagree with us most strongly love our country just as much as we do. You've never heard Hillary Clinton demonise other people," he said.
In an apparent dig at Trump, President Obama said this is not a reality show. "This is not entertainment, this is real. This is not a reality show, this is reality. And being President of the US means you have to deal with reality," he said.
"When a crisis hits you can't just walk off the set. You can't fire the scriptwriter. You can't be reckless. You don't have the luxury of just saying whatever pops into your head. You've actually got to know what you're talking about," he said.
"You've actually got to do your homework. You can't just kick out reporters. You can't go to another country and if they ask you a question you don't like just kick them out. Because you're in another country," he added.
Trump slams  FBI's decision in Hillary Clinton email probe
While President Obama extended his support to Hillary Clinton, Donald Trump reacted strongly to the FBI's decision not to charge her in the email-gate scandal.
Presumptive Republican presidential nominee Donald Trump has alleged "the system is rigged" even as he exuded confidence that the American people would be the "final jury" in the general elections to be held on 8 November.
"Folks - the system is rigged. The normal punishment, in this case, would include losing authority to handle classified information, and that too disqualifies Hillary Clinton from being President," Trump said on Tuesday in a statement hours after FBI announcement in this regard.
"The final jury will be the American people, and they will issue the verdict on her corruption, incompetence, and bad judgment on 8 November," he said.
Clinton is the Democratic presidential candidate and will face Trump in the November polls.
Trump said the FBI Director James Comey laid out a detailed case of how Clinton compromised the safety of the American people by storing highly classified information on a private email server with no security.
"Our adversaries almost certainly have a blackmail file on Hillary Clinton, and this fact alone disqualifies her from service," Trump said.
"It has also been revealed that Hillary Clinton lied when she said she did not send classified information," he said, adding that the FBI Director confirmed that over 100 emails were deemed classified at the time they were sent, including emails classified as top secret.
--PTI