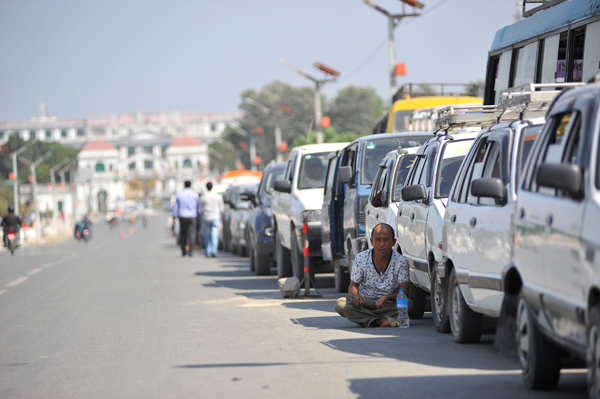 Nepalese police baton-charged Madhesi protesters and burned down their tents, evicting them from the crucial Miteri bridge at Indo-Nepal border in a pre- dawn swoop, opening the main Birgunj-Raxaul border trading point for the first time in 40 days.
Five protesters were arrested when the police intervened at around 4.30 AM to open the Birgunj-Raxaul trading point through which about 70 per cent of bilateral trade is done, Home Ministry spokesperson Laxmi Prasad Dhakal told PTI.
Security personnel baton-charged about a dozen protesters who were sleeping in the tents set up on the bridge between Nepal-India border. The tents and beddings used by the agitators were burned.
Some 170 empty freight trucks then entered into India through the border point after ferrying essential to Nepal.
The trucks were stranded due to blockade of the trading point by the Madhesi agitators for more than a month which was opened today with the help of security personnel, Dhakal said.
Madhesis - who claim to represent the interests of the Indian-origin inhabitants of Nepal's Terai region (plains) - have been protesting close to the main trading point near Raxaul. Their agitation has led to a halt in supply of essential goods, causing acute shortage of fuel in Nepal.
Some three dozen Indian truck drivers, who were stranded on the Nepalese side of the border due to the blockade, had staged sit-in at the Indian Consulate office in Birgunj for the past few days seeking their return to India.
There is 15-km long queue of vehicles waiting for clearance from Indian authorities for entering into Nepal, Dhakal said.
These vehicles were carrying essential fuels, LP gas, medicines and food items for supply to the landlocked country.
Indian officials have been saying that the supplies of essentials were stopped due to the blockade by the Madhesis.
There were sporadic protests at different places today in Birgunj by the Madhesi groups against the police intervention at the Raxaul-Birgunj trading point.
"We have repeatedly made requests to the Indian authorities to release Nepal-bound vehicles, but they did not listen to us," said Dhakal.
Now the main trading point - Raxaul-Birgunj - has opened, we are capable to give security to vehicles carrying essentials entering into Nepal, he said.
-PTI