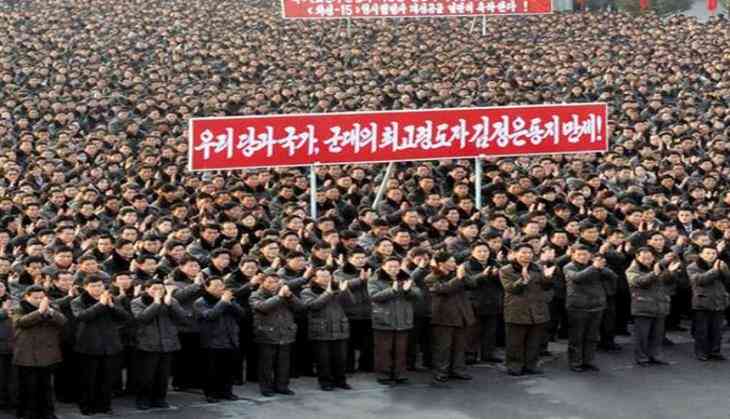 North Korea on Thursday staged a military parade to mark the 70th anniversary of its armed forces' day before the Pyeongchang Winter Olympics begins on Friday.
The isolated country, in previous military parades, had displayed newly-developed weapons such as missiles to show off its military might, the Yonhap news agency reported.
South Korean Unification Minister Cho Myoung-gyon earlier had claimed that North Korea might hold a "threatening" military parade by mobilizing a huge number of military personnel and nuclear weapons.
However, Pyongyang had brushed off Seoul's claims, saying that nobody had the right to point out at its military anniversary celebrations.
North Korea set up the Korean People's Army (KPA) on February 8, 1948, and celebrated the date as the founding anniversary until 1977.
However, in 1978, late North Korean leader Kim Il-sung changed the date to April 25 when the isolated nation created anti-Japanese guerrilla forces in 1932.
North Korea reverted to the actual February 8 date from this year. North Korea's last parade marked the 105th birthday of Kim Il-sung in April last year.
The two Koreas have engaged in sports diplomacy since North Korean leader Kim Jong-un extended a rare olive branch to Seoul in his New Year's message, after years of tensions sparked by the Pyongyang's nuclear and missile provocations.
On Wednesday, North Korea offered to send Kim Yo-jong, the sister of Kim Jong-un, to South Korea on Friday as a member of the high-level delegation for the Winter Games.
The North announced on Sunday that its ceremonial leader Kim Yong-nam will be arriving at Pyeongchang for attending the Winter Olympics and will head a 22-member delegation, which included three delegates and 18 supportive staffers.
The South Korean presidential office announced that President Moon-Jae in is proposing to hold a one-on-one meeting with Yong-nam.
Yong-nam is the President of the Presidium of the Supreme People's Assembly of North Korea.
Earlier this month, North and South Korea agreed to field a joint women's ice hockey team and also march together under a unified Korea flag at the opening ceremony of the Winter Olympics.
North Korea will send 24 officials, including coaches, alongside the 22 athletes in three sports and five disciplines.
The two sides had met at the border village of Panmunjom, located along the heavily guarded Demilitarised Zone (DMZ) for working-level and military talks.
The Winter Games will take place from February 9 to 25. The Pyeongchang Winter Paralympics will be held between March 8 to 18.
The development between the two countries has brought some ease into their strained relations.
--ANI