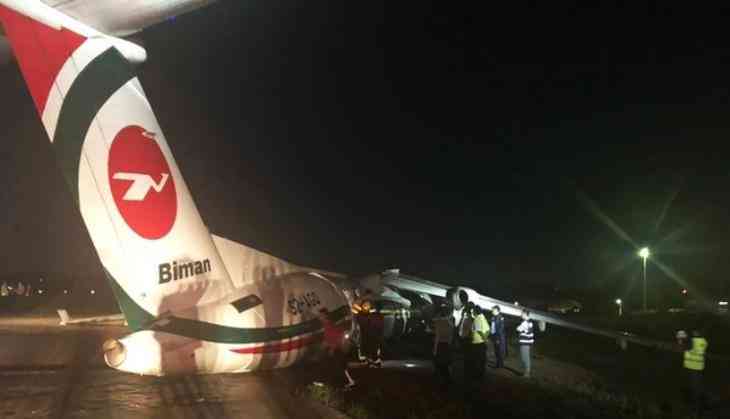 Myanmar: Biman Bangladesh Airlines slides off runway
Biman Bangladesh Airlines causes eleven lives as it slides off a runway due to a heavy storm while landing at Myanmar airport on Wednesday. On Facebook images of the incident has been shared widely in which we can see the plane was badly crumpled and was lying on the side of the runway.
The incident took place around 6:50 pm (local time) at Terminal 3 where the plane fell onto the cargo runway, the nose and the wings of the plane got damaged while landing.
"One pilot, an air hostess and nine passengers were slightly injured," a police officer at the airport told AFP, asking not to be named, adding that the plane slid from the runway as it landed at 6.50pm (local time).
Though Yangon International Airport didn't confirm the incident they announced that due to heavy rainfall they have suspended the operations at runway till further notice. While the incoming flights were diverted to the capital Naypyidaw.
31 people were onboard from Myanmar, Canada, Bangladesh, China, Switzerland and France out of which eleven got injured.
Also Read- Ahmed Patel blames BJP for Rajiv Gandhi's assassination; says, 'he lost his life due to...'