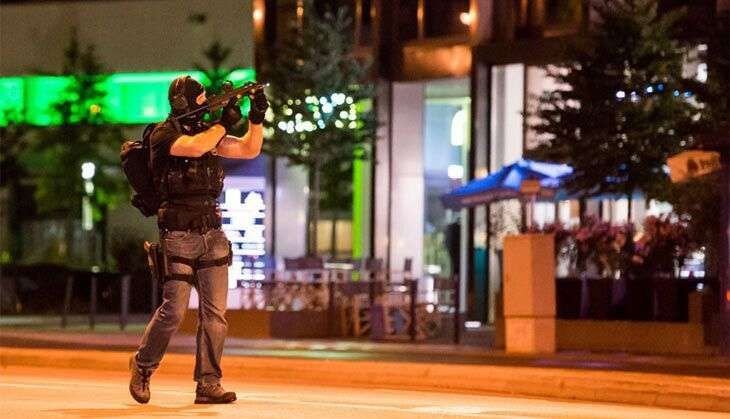 Nine people were killed and at least 19 others injured in an attack on a shopping complex in Munich on 22 July. The attacker, a lone gunman, shot himself dead after the rampage. His body was discovered around 0.6km away from the shooting area.
No Indians were among the casualties, the MEA has confirmed. The Indian embassy has issued helpline numbers: 0171-2885973, 01512- 3595006, 0175-4000667.
Here are 10 things we know about Munich attack:
1. The attacker, a lone gunman, has been identified as an 18-year-old with a dual German and Iranian citizenship who has been living in Germany at least for the last two years. The gunman has no criminal record, Guardian quoted the police as saying.
2. Gunshots were first fired at a McDonald's near the Olympic Shopping Centre (OEZ) in northern Moosach area of Munich. After shooting at the McDonald's store, the gunman went on a rampage onto the streets and then proceeded towards a mall near the Olympic stadium.
3. Children were also among the victims. The motive of the attack has not been ascertained.
4. Residents were warned via Munich's smartphone warning system to avoid public places, stay in their homes where possible, and turn on the TV and radio.
5. Munich central station was closed and evacuated and the underground system and bus network were also suspended. The transport network was restored to normalcy a few hours later
6. German chancellor Angela Merkel is scheduled to hold a meeting with intelligence officials and ministers to review the attack. Her chief of staff Peter Altmaier informed that the cabinet ministers concerned are on their way to Berlin. He further said, "We are determined to do everything we can so that terror and inhuman violence stand no chance in Germany.
7. There was no immediate claim of responsibility but supporters of Islamic State celebrated on social media, Al Jazeera reported. "Thank God, may God bring prosperity to our Islamic State men," read one tweet in Arabic." "The Islamic state is expanding in Europe," read an Arabic-language tweet on another account also known to support the terror outfit.
8. This is the third major act of violence against civilians in Western Europe in eight days. Previous attacks in France and Germany were claimed by the Islamic State or Islamic State terror group.
9. Terming it a "terrorist attack", French president Francois Hollande said: "The terrorist attack that struck Munich killing many people is a disgusting act that aims to foment fear in Germany after other European countries. Germany will resist, it can count on France's friendship and cooperation." Hollande said he would speak with German Chancellor Angela Merkel on Saturday morning.
10. Britain's Foreign Office, in an updated travel advice, has issued alerts all around the area and urged its citizens to avoid the area of shooting.
The attack brings revived the horrors of 5 September 1972 when eight members of a Palestinian terrorist organisation stormed the Olympic village and kidnapped 11 Israeli athletes before killing them. The victims were reportedly tortured before their death. The attack, which ouccred blocks away from the Munich Olympia Shopping Centre, is now referred to as Black September.
Coincidentally, the date of the attack, 22 July, was the fifth anniversary of a lone-wolf massacre in Norway which claimed 77 people.