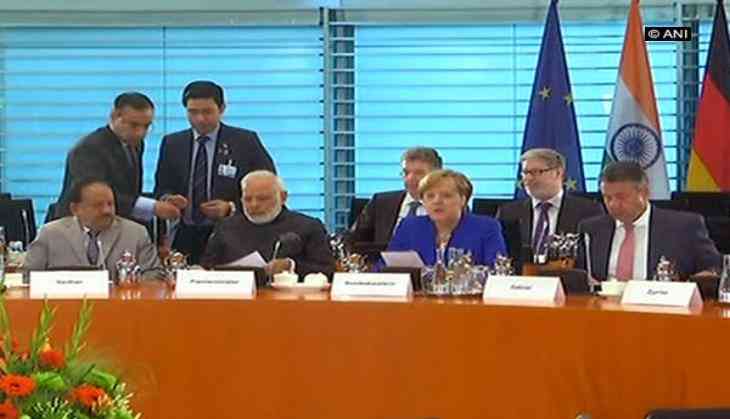 Indian Prime Minister Narendra Modi and German Chancellor Angela Merkel started the fourth round of the biannual Inter-Governmental Consultations (IGC) in Berlin on 30 may.
External Affairs Ministry spokesperson Gopal Baglay tweeted, "PM Narendra Modi and Chancellor Merkel is undertaking a comprehensive review of cooperation at the Plenary meeting of the Inter-Governmental Consultations."
PM @narendramodi & Chancellor Merkel undertake comprehensive review of coop'n at the Plenary Meeting of the Inter-Governmental Consultations pic.twitter.com/mSxglcBKnI

— Gopal Baglay (@MEAIndia) May 30, 2017
Germany is the only country with which India has such an institutionalized dialogue mechanism.
The first IGC was held in New Delhi in 2011, the second in Berlin in 2013, and the third in New Delhi in 2015.
Prime Minister Modi is accompanied by Minister for Science and Technology Harsh Vardhan, Minister of State for New and Renewable Energy Piyush Goyal, Minister of State for Commerce and Industry Nirmala Seetharaman and Minister of State for External Affairs M.J. Akbar.
Earlier on 30 may, Prime Minister Narendra Modi was accorded a ceremonial welcome on as he began his two-day official visit to Germany.
Received by German Chancellor Angela Merkel, Modi was accorded the ceremonial reception, where the national anthem of India and Germany were played.
The Ministry of External Affairs said in a statement at the end of the first day of Prime Minister Modi's two-day Germany visit, "The two leaders discussed Afghanistan and reiterated their support for an Afghan led and Afghan owned reconciliation and development process. There was discussion also on the issue of radicalization and terrorism and each countries experience in dealing with this."
Both the leaders also discussed Brexit and the impact on India and Germany and on the future of the European Union.
Modi and Merkel will also jointly address the India-Germany Business Summit later in the day.
On 29 may, Modi and Merkel held a private meeting in the latter's country resort of Schloss Meseberg, 65 km from Berlin, in which a range of issues, including terrorism, climate change were discussed.
"We will chart out a future roadmap of cooperation with focus on trade and investment , security and counter-terrorism, innovation and science and technology, skill development, urban infrastructure, railways and civil aviation ,The Prime Minister said before he left for Berlin.
-ANI