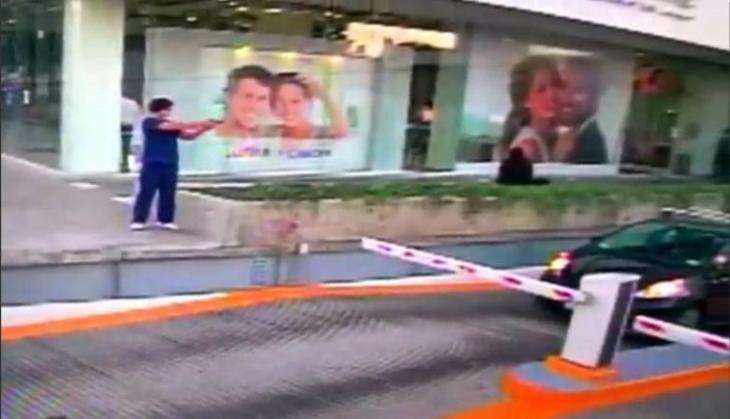 The suspect in the shooting of a US consular official in Mexico's western city of Guadalajara is an American who will be deported back to his country, officials have said.
Hours after authorities announced the suspect's arrest, the attorney general's office and the foreign ministry issued a joint statement saying he would face justice in the United States for the "sordid and cowardly" shooting.
The official was shot on Friday in a brazen attack by a man wearing a black wig and a blue nurse uniform outside a shopping center's garage in Mexico's second biggest city.
Officials have not indicated the possible motive nor revealed the identities of the victim or the suspect.
The suspect was arrested by Mexican authorities in "close collaboration" with the FBI and the US embassy, the joint statement said, without providing more details about the day or circumstances of the capture.
The victim, who was hospitalised, was in stable condition, it said.
A US government official told AFP the victim was a vice consul at the consulate in Guadalajara. Mexican authorities said he handled interviews of visa applicants.
An official at the Jalisco state prosecutor's office told AFP on condition of anonymity that the suspect is 31 years old and of Indian origin.
The FBI had offered USD 20,000 for information about the shooter's identity.
The US consulate in Guadalajara posted surveillance camera footage showing the official, dressed in shorts and a sleeveless shirt, paying a parking ticket at an automated machine. The gunman is then seen following him.
Another security camera shows the gunman later standing outside the garage. When the official's black car stops at the exit, the shooter raises his gun and opens fire.
A bullet hole is seen on the windshield and the official opens his door before the footage ends.
Jalisco's state attorney general, Eduardo Almaguer, described the shooting as a "direct attack" on Saturday.
US Secretary of State John Kerry thanked the Mexican government for the "swift and decisive arrest of a suspect in the heinous attack against our Foreign Service Officer colleague."
"The safety and security of US citizens and our diplomatic staff overseas are among our highest priorities," Kerry said in a statement, wishing the official a "speedy recovery."
Friday's shooting prompted the US embassy to issue a security message on Saturday urging US citizens in Guadalajara to "restrict their movements outside their homes and places of work to those truly essential."
"They should also take care not to fall into predictable patterns for those movements that are essential," the message continued. "They should vary the times and routes of their movements."
Guadalajara and the rest of the state have been hit by violence perpetrated by the powerful Jalisco New Generation drug cartel in recent years.
-PTI