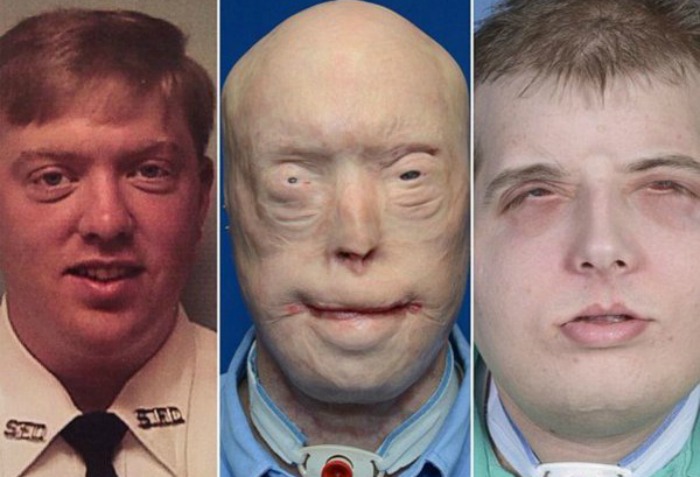 Patrick Hardison, a 41-year-old volunteer firefighter from Senatobia, Mississippi is a happy man. Most people get a new start, he's got a whole new face and a new start.
In 2001, Patrick suffered extensive facial burns on the job, leading to partial loss of eyesight. With burns covering his face from skull down to his neck, Patrick was hardly recognisable as the slightly chubby father of one after his accident. All that changed when a friend helped him to get on the wait-list for a face transplant in 2014.
A few years later, they found the perfect match to become his donor: a 26-year-old artist and professional bicyclist David P Rodebaugh who succumbed to a biking accident in Brooklyn, New York.
The surgery was performed at NYU's Langone Medical Center, lead by Dr Eduardo Rodriguez in August which went on for over 26 hours. The good NYU hospital will also pay for the approximate $1 million fee of this elaborate surgery.
When Patrick woke up on the other side, he found to his delight that the operation has left no scars. The transplanted tissue's seam was down the back of his skull, and not over his face.
Where the first few surgeries right after the accident has left with with pinhole vision instead of eye-slits, this time he could see just fine. Everything, including his ears had to be transplanted.
Dr Amir Dorafshar, co-director of the transplant program at Johns Hopkins University School of Medicine says about the feat: "It's a historic achievement. This type of treatment option will potentially revolutionise the care of patients with severe facial burn injuries."
Over two dozen face transplants have been performed till date but this is the most extensive face transplant in history. The lower half of his face still remains swollen, but doctors believe that will go down in the next few months. A few other operations are scheduled over the next few months.
"I used to get stared at all the time, but now I'm just an average guy," says Patrick.
A 41-year-old former firefighter now lives with the face of a 26-year-old artist/bicyclist? That's not average at all. That's really, really cool. Well done, science.