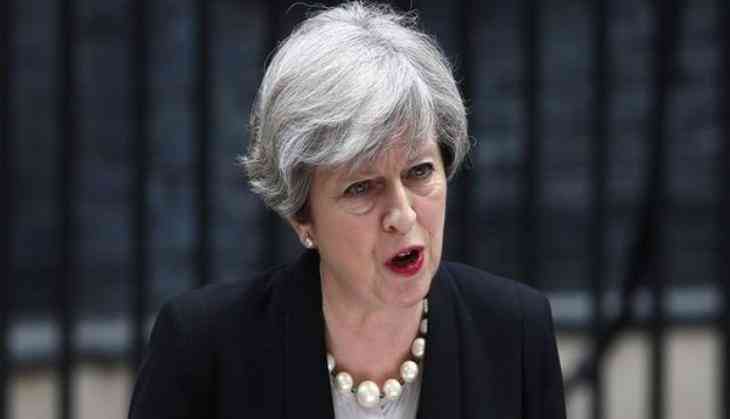 London terror attacks: Theresa May to chair Cobra meet
British Prime Minister Theresa May will convene an emergency security Cabinet meet known as Cabinet Office Briefing Room (Cobra) after terror attacks took place at the London Bridge and the Borough Market, where several people were injured. The top-level security briefing invloves a discussion across departments which is designed to respond to national emergencies.
The Prime Minister will chair a meeting of the government's emergency response committee on Sunday, the Guardian reported.
Shortly after the incidents, May said the "terrible" incident in London is being treated as a "potential act of terrorism," The Independent reported.
"Following updates from police and security officials, I can confirm that the terrible incident in London is being treated as a potential act of terrorism. This is a fast moving investigation. I want to express my huge gratitude to the police and emergency services who are on the scene. Our thoughts are with those who are caught up in these dreadful events," she added.
Earlier in the day, minutes after a van mowed down a number of pedestrians on the London Bridge, injuring several, it was reported that two other simultaneous terror attacks took place at the Borough Market and Vauxhall.
Soonafter, the police started responding to these incidents across parts of the city.
At the London bridge, witnesses said the van was reported to have swerved onto the pavement and there have been unconfirmed reports of gunfire, The Guardian reported.
At the Borough Market, where there are reports of multiple stabbings, people were forced to take cover under the tables in a resturant as a man entered and stabbed two people.
The Metropolitan Police tweeted, advising people to "run, hide and tell."
Armed police and emergency vehicles were earlier dispatched to the London Bridge, where there were unconfirmed reports of bodies lying on the ground, The Independent reported.
The London Bridge station has been closed "at the request of police" following what has been described as a "major police incident".
England has been on the edge since May 22, when a suicide bomber killed 22 people at an Ariana Grande concert at the Manchester Arena.
Earlier on March 24, London was struck by a terror attack that killed four people and left dozens injured in the city's deadliest attack in over a decade.
52-year-old Khalid Masood mowed down people injuring as many as 40 on the Westminster Bridge in a terror attack on London and stabbed a police officer to death as he tried to enter the U.K. Parliament.
The ISIS had claimed responsibility for the attack, saying that a "soldier of the caliphate" carried out the atrocity in Westminster.
The terror organisation said that the attacker followed a call to attack civilians and security forces in countries allied to the U.S.-led coalition bombing the ISIS territories in Syria and Iraq.
-ANI