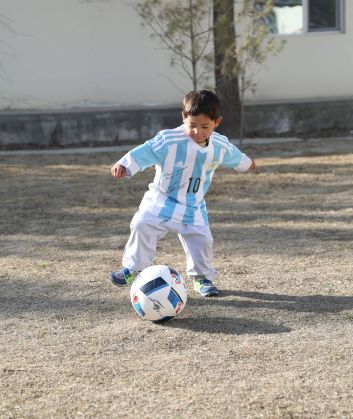 Lionel Messi, the Barcelona star, obliged a young Afghan fan with a signed t-shirt, after photos of the kid in a makeshift plastic bag jersey went viral on the internet.
Murtuza, who hails from a poor village in war-torn Ghazni, had his brother make him a \'Messi\' jersey out of a blue-and-white plastic bag complete with the player\'s name and jersey number.
The young Afghan football fan is ecstatic to have received a gift from Messi whom he idolises.
"I love Messi and my shirt says Messi loves me," said an enthusiastic five-year-old Murtuza who could hardly contain his excitement, early Thursday morning, as he kicked his new football around in the UNICEF compound.
Earlier in the day, Murtaza, along with his father, had been called to the UNICEF office to receive a gift - a personally autographed jersey sent by none other than Lionel Messi himself!
The young football fan, who hails from the province of Ghazni in Afghanistan, became an internet sensation when a photo of him proudly displaying a make-shift, blue-and-white plastic bag sports jersey his brother made for him, complete with Messi's name and jersey number inscribed on it.
Murtaza's family hails from a small village in the war-torn Afghanistan and continues to lack basic amenities due to unstable security conditions, making it impossible for them to be able to procure or afford actual sports merchandise.
"Murtaza wants to meet Lionel Messi in person one day. He asked me to buy him a jersey but I cannot afford it," Murtaza's father, Arif Ahmadi had told the media in January.
"I told him that we were living in a poor village far from the city and it was impossible for me to get him the shirt," Ahmadi, a farmer and father of six, had said.
However, when fan accounts dedicated to the football legend came across Murtaza's photo, they campaigned to get Messi's attention to the little fanboy from Afghanistan.
A kid in Iraq 💔.. pic.twitter.com/ZfOEpUCNvw

- Leo Messi (@messi10stats) January 16, 2016
:

About a month later, UNICEF Afghanistan facilitated the ultimate dream gift for Murtaza -- a signed jersey by the football legend himself -- who also happens to be UNICEF's goodwill ambassador. Murtaza not only received a signed Argentina jersey, but also a football.
Murtaza has the real thing now! #LeoMessi helped make his dream come true & gave him signed jerseys & a football. pic.twitter.com/ls6nUOdaBL

- UNICEF Afghanistan (@UNICEFAfg) February 25, 2016
:

Messi's management team confirmed that they sent the t-shirt to little Murtuza, as well as some more FC Barcelona t-shirts for his family members.