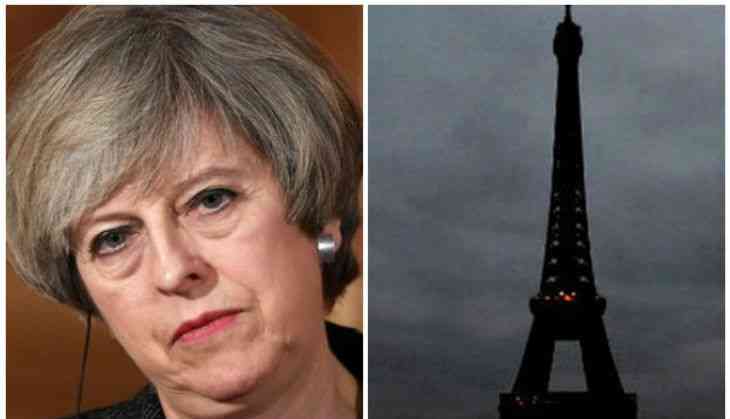 Condolences from all across the world continue to pour in after the mass shooting in Las Vegas that killed at least 59 people and injured hundreds.
The gunman, identified as 64-year-old Stephen Paddock, opened fire on concertgoers enjoying a country music festival in Las Vegas from the 32nd floor of a hotel late Sunday.
Also, the attack is being considered as the deadliest mass shooting in modern U.S. history.
The British Prime Minister, Theresa May, tweeted her condolence after the Las Vegas shooting.
"The UK's thoughts are with the victims and the emergency services responding to the appalling attack in Las Vegas," she wrote.
In Paris, French President Emmanuel Macron offered words of comfort.
"Emotional thoughts for our American partners and friends who have had to suffer the violence of our times in Las Vegas a few hours ago," he tweeted Monday.
The Eiffel Tower, the French capital's most iconic landmark, went dark at midnight "in homage to the victims of the attacks in Marseille and Las Vegas."
Le Monde, a leading French newspaper, observed that the United States, "with 85 arms per 100 inhabitants, is also the Western country where the proportion of deaths by gunshots is the highest."
Russia's state-run, 24-hour news channels also covered the attack.
Russian Prime Minister Dmitry Medvedev took to Facebook to express his condolences. "I am shocked by the tragedy in Las Vegas," he wrote in Russian and in English. The crime is striking in its violence and cynicism. Russia shares the sorrow of those who lost their relatives and friends. We pass our sympathy and support to them and wish a speedy recovery to the injured."
"I condemn in the strongest terms possible today's terror attack in Las Vegas, NV," Turkish President Recep Tayyip Erdogan said on Twitter.
"I sincerely hope that such attacks won't happen in the future. On behalf of the Turkish people, I offer my condolences to the families and loved ones of the victims and all Americans."
Iraqi Prime Minister Haider al-Abadi called it a "heinous attack."
Canadian Prime Minister Justin Trudeau said: "Words fail this morning. The friendship & support of Canadians is with the victims in Las Vegas & the people of the US."
Benjamin Netanyahu?, the Israeli prime minister, also offered words of solace.
Enrique Peña Nieto, the president of Mexico, called the shooting "tragic."
Pope Francis said he was "deeply saddened" and called the shooting a "senseless tragedy."
Monday's attack has prompted a debate on social media about whether the United States should adopt stricter gun-control laws.

- - ANI