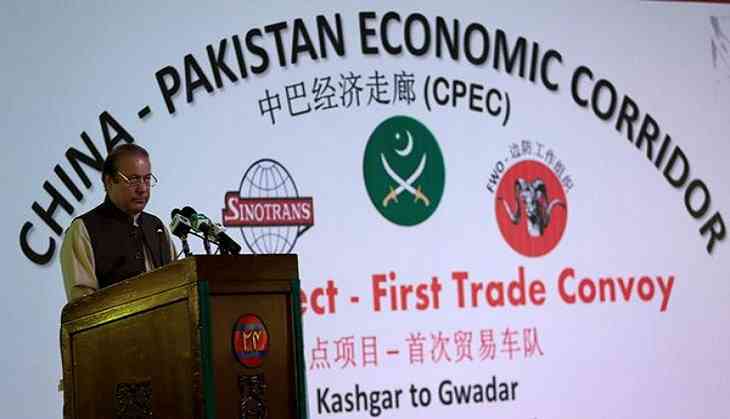 China-Pakistan Economic Corridor (CPEC) project
Domestic manufacturing in Pakistan is likely to be adversely affected by the USD 51 billion China-Pakistan Economic Corridor (CPEC) project, a Pakistan-origin freelance columnist has cautioned in an editorial for the Dawn.
According to Umair Javed," Already smarting from several free-trade agreements, greater integration with the Chinese economy could hamper several segments of domestic manufacturing (in Pakistan)".
"From what we've seen of (the) CPEC so far, the aggregation and input of domestic interests looks to be largely absent. This is worrying for both the moral-ethical foundations of our political system, and for the eventual health of our (Pakistan) economy," he adds.
Javed further opines that local businessmen are by and large worried about the influx of Chinese capital and goods, and adds that labour activists are also unclear about the kind of wage and workplace regimes incoming Chinese investment will generate.
The Dawn quotes him, as saying that "the swiftness and vehemence with which government officials (have) rejected last week's story on the CPEC plan suggest they want to keep a lid on another, far more volatile front: agriculture."
"If the current version of the plan retains the same core priorities, it means Chinese investment in agriculture, so far kept out of the discussion, will be central to CPEC. It means there will be large-scale land appropriations, new interventions in the agriculture supply chain, and possible disruptions in the way the rural economy currently works."
He cautions the governing elite not to ignore the agriculture sector that still employs 40 percent of the nation's labour force, and acts as a lynchpin in electoral politics.
"By refusing to elaborate on CPEC's rollout in Pakistan's rural economy, the ruling party through its lead, and all other political parties, through their pliant acquiescence, are shutting out a politically potent segment of the population," Javed says, warning that it could widen the gulf between all those tasked with governing and those they're supposed to represent.
This will open up the possibility of political instability and conflict.
He concludes by saying that the "CPEC's potential can be better harnessed through a more transparent conversation; especially one that offers greater room for discussion and critique."
-ANI