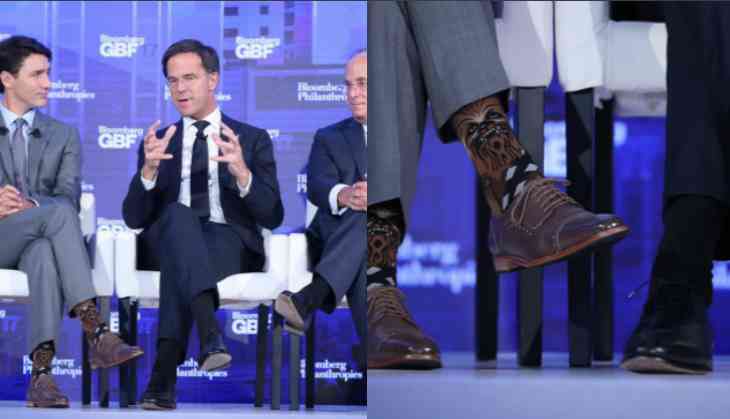 Two famous prime ministers first Justin Trudeau, the Prime Minister of Canada and second Mark Rutte, the prime minister of Netherland were attending the inaugural Bloomberg Global Business Forum in New York. But all eyes were left glued to Trudeau's socks.
Trudeau is most loved Candian PM and he surely knows how to return all the love to his people. Whether it is making a 5-year-old Canada's PM for a day or wishing Eid Mubarak, he surely know how to woo and get all the appreciation on social media.
Now it seems Justin is also a Star war fan and he has no problem in letting everyone know about his love for Star War.
The Canadian PM was recently spotted wearing a 'Star Wars' Chewbacca socks and Twitterati went crazy about it. While for some Twitter users 'Justin Trudeau wearing Chewbacca socks' was the best thing to happen today and others are planning to move Canada because of him.
Here are some popular tweets:
Justin Trudeau is wearing Chewbacca socks I'M DEAD pic.twitter.com/7d0qV2IEt5

— Gary He (@garyhe) September 20, 2017
me slipping out of the US like "...yeah dad I'll be back before midnight" pic.twitter.com/UFq0NYdBsp

— ᴄᴀᴛʜᴜʟʜᴜ 💎 (@cathythemango) September 21, 2017
Stop for me on your way by 'k?Maybe we can drive by Justin's house when we get there?💕

— Helene W (@yiwork13) September 21, 2017
I was suspicious of that guy but now I take it all back.

— Gary Frank (@1moreGaryFrank) September 20, 2017
Luv that @JustinTrudeau is rocking Chewbacca socks at #UNGA He's so awesome!!

— Gail B. (@gbrskater) September 20, 2017
That settles it. I'm moving to Canada.

— Rogue Lawyer 🇺🇸 (@Rogue1Lawyer) September 21, 2017
That's it. I can't take it anymore. We're stealing him! pic.twitter.com/y5DBvpVMBf

— 🎈The Amazing R🎈 (@RAR18639) September 21, 2017
September 21, 2017
Best thing today 🤣

— BeSeriousUSA (@BeSeriousUSA) September 20, 2017
Please, Canada, share him with us. #HesHotAndNerdy #WeHaveAnIneptOopmaLoompa

— Circ Desk Tales (@circdesktales) September 21, 2017