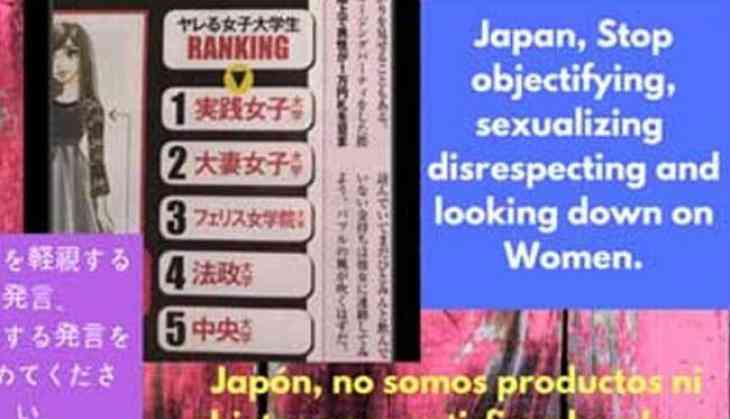 A Japanese tabloid magazine ranked women's universities on 'ease of sex' in an article on how easy it is to convince students to have sex at drinking parties. Following which a campaign was launched by a woman that forced the magazine to apologise on Tuesday over its article.
In the December 25 issue of the weekly magazine "Spa!" a list appeared that prompted outrage, particularly online where one woman launched a campaign seeking an apology and suspension of sales of the offending issue.
As per the report, the lady's petition on the change.org platform accused the article of "sexualising, objectifying and disrespecting women" and had collected support from more than 28,000 people by Tuesday.
"We would like to apologise for using sensational language to appeal to readers about how they can become intimate with women and for creating a ranking with real university names that resulted in a feature that may have offended readers," the magazine's editorial department said in a statement obtained by AFP.
The magazine said its list was based on information from its interview with the developer. "On issues that involve sex, we will do what we can as a magazine to listen to various opinions," the statement said.
Also read: Pak PM Imran Khan accuses India of not responding to peace overtures; says, '2 nuclear-armed nations at war are suicidal'