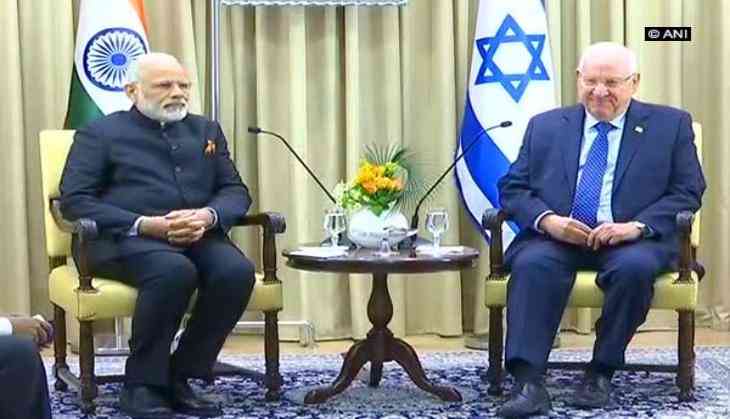 Israeli President Reuven Rivlin on 5 July broke protocol to receive Prime Minister Narendra Modi and said 'he is welcome to the State of Israel in the capital city of Jerusalem".
Both Prime Minister Modi and President Rivlin held extensive talks on a wide range of issues pertaining to India-Israel friendship and other global issues.
Elaborating on strengthening the bilateral ties, Rivlin said, "We have a lot in common and doing a lot in common. We have understood very well and talked on the need to take forward the India-Israel friendship partnership. State of Israel is a new state established in 1940 and we thought we should produce everything in Israel and make great ideas."
Rivlin told PM Modi that "We are doing a lot to take up your ideas about Make in India"
The President said PM Modi has accepted that only in some projects Israel would be participating in 'Make With India'.
"The President of Israel welcomed me so warmly, he broke protocol. This is a mark of respect for the people of India," PM Modi tweeted.
Recalling his visit to India, President Rivlin said ," I am glad to say it is only eight months since I visited India ,I will never forget I found real strong nation with strong ideas and India is one of the greatest democracies in the world in this time."
Speaking on the level of cooperation, Israeli President said, "There is a lot of cooperation in universities , B2B cooperation between businessmen of India and Israel and there are many Israeli businessmen who intend to invest in India, make mutual projects together. I believe that both Israeli and Indian government will boost G2G cooperation.
Praising PM Modi, President said, "I have found you the greatest democratic leaders at present, who pays attention to the needs of his people."
PM Modi said that there stands 'I for I'- India for Israel- and 'I' with 'I'- India with Israel and on the other hand Indians feel that 'Israel' means 'Israel is a real friend of India' .
Expressing the unique kind of friendship and link between the two countries, PM Modi said, "B2B phrases are being used when we talk of trade and commerce but when I see in reality, today I say 'I' for I'-India for Israel and 'I' with 'I'- India with Israel and on the other hand Indians feel that 'Israel' means ' Israel is a real friend of India".
"It is a privilege to meet President Rivlin again today. I fondly recall his visit to India last November when he charmed us with his affable manner and desire to do more with India," Modi wrote in the guest book at the President's residence.
-ANI