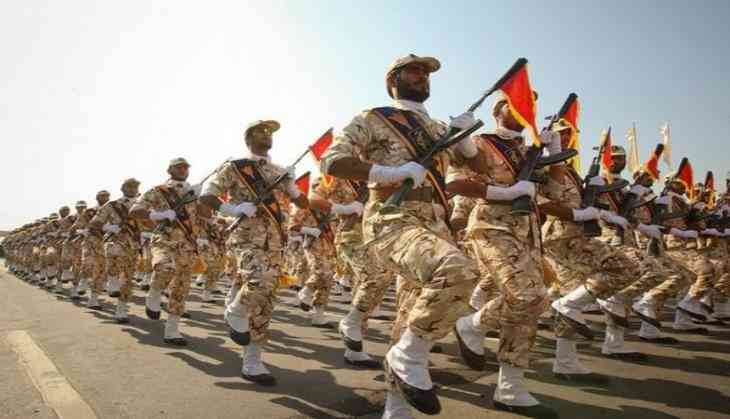 Iran's Revolutionary Guards has blamed Saudi Arabia for 7 June's two deadly terror attacks on its parliament and on the shrine of Ayatollah Khomeini.
The Revolutionary Guard Corps vowed to take revenge for the attacks, and said that there is a definitive link to the visit of U.S. President Donald Trump to Saudi Arabia in May, CNN reported.
Sunni-majority Saudi Arabia and Shiite Iran have had strained relations throughout their history and have been involved in a sectarian feud for more than 1,000 years.
At least 12 people were killed when six attackers mounted simultaneous gun and suicide bomb attacks on Iran's Parliament building and the tomb of the republic's revolutionary founder, in one of the most audacious assaults to hit Tehran in decades. Equipped with AK-47 assault rifles, handguns and suicide vests, the gunmen killed security guards and ordinary people before holding people hostage in the upper floors of the building. One of the attackers reportedly blew himself up inside as police surrounded the building.
The Tehran Security Council had convened an emergency meeting after two terror attacks occurred on the Iranian Parliament and Imam Khomeini Mausoleum respectively on 7 June.
The Islamic State claimed responsibility of the two attacks - a suicide bomb and gun assault - on the Iranian parliament and the mausoleum of the founder of the Islamic Republic.The ISIS media wing, Amaq, claimed "fighters with the Islamic State" carried out the assault.
This the first attack conducted by ISIS in Iran, which is predominantly Shiite. Attacks are highly rare in Tehran and other major Iranian cities, although a Sunni militant group named Jundallah and its splinter group, Ansar al Furqan, have been waging a deadly insurgency, mostly in more remote areas, for almost a decade.
Both Saudi Arabia and Iran has opposite views on the ongoing conflicts in Syria, Yemen and elsewhere.
Trump issued a written statement saying he felt for Iranian civilians, but the government has itself to blame for the attack.
"We grieve and pray for the innocent victims of the terrorist attacks in Iran, and for the Iranian people, who are going through such challenging times," Trump said. "We underscore that states that sponsor terrorism risk falling victim to the evil they promote."
"World public opinion, especially in Iran, sees the fact that this terrorist act was perpetrated soon after the meeting of the US president with the heads of one of the reactionary regional states that has always supported ... terrorists as to be very meaningful," CNN reported.
The statement did not explicitly name Saudi Arabia, but the implication was clear. It continued to say that the as ISIS's claim of responsibility for the attacks showed the country's "complicity in this wild move."
-ANI