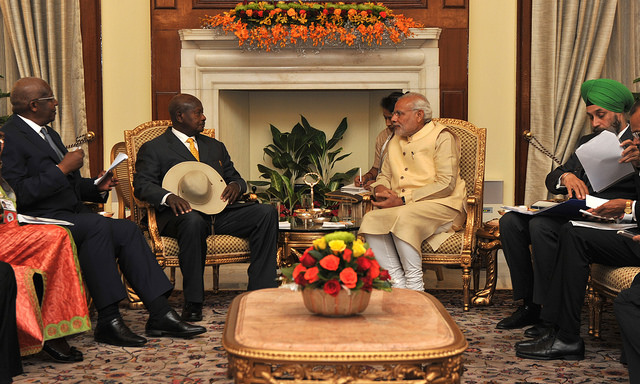 A day ahead of the India-Africa Forum Summit in the national capital, Prime Minister Narendra Modi will be holding bilateral meetings with Heads of State of 20 African countries on Wednesday.
External Affairs Minister Sushma Swaraj will also inaugurate the Business Forum, which will be attended by the business associations of India and Africa, and also hold bilateral meetings with some of her African counterparts.
Several African businessmen are expected to participate in the day-long deliberations.
Swaraj had earlier highlighted how India and Africa have worked together to develop a common understanding of core priorities for an inclusive economic growth to eradicate poverty and allocate adequate resources for sustainable development.
Modi's first bilateral meeting will be with Zimbabwe president Robert Mugabe, who is visiting India after a gap of two decades. He was once a frequent visitor to India and Mugabe's last visit was in 1994 for the G-15 or Group of 15 developing countries summit.
According to news reports, the bilateral meetings will start at 9.00 am and each meeting is slotted for half an hour.
Also read: #AfricaIndiaSummit: Here's how African nations are pitching for 'Make in Africa'
Here's a list of leaders Modi is set to meet:
9:00am: Robert Gabriel Mugabe,President of the Republic of Zimbabwe
9:22am: John Dramani Mahama, President of the Republic of Ghana
9:45am: Mswati III, King of Swaziland
10:07am: Boni Yayi, President of the Republic of Benin
10:30am: Muhammadu Buhari, President of the Federal Republic of Nigeria
10:52am: Uhuru Kenyatta, President of the Republic of Kenya
11:15am: Yoweri Kaguta Museveni, President of the Republic of Uganda
11:37am: Bethuel Pakalitha Mosisili, Prime Minister of the Kingdom of Lesotho
12:00pm: Obiang Nguema Mbasogo, President of the Republic of Equatorial Guinea
12:22pm: Ismail Omar Guelleh, President of the Republic of Djibouti
12:45pm: Salva Kiir Mayardit, President of the Republic of South Sudan
2:00pm: Issoufou Mahamadou, President of the Republic of Niger
2:22pm: Idriss Deby Itno, President of the Republic of Chad
2:45pm: Jacob G. Zuma, President of the Republic of South Africa
3:07pm: Carlos Agostinho do Rosario, Prime Minister of the Republic of Mozambique
3:30pm: Patrice Emery Trovoada, Prime Minister of the Democratic Republic of Sao Tome & Principe
3:53pm: Ali Bongo Ondimba, President of the Republic of Gabon
4:15pm: Nkosazana Dlamini Zuma, Chairperson, African Union
4:37pm: Alpha Conde, President of the Republic of Guinea
5:00pm: Mokgweetsi Eric Keabetswe Masisi, Vice President of the Republic of Botswana
With agency inputs