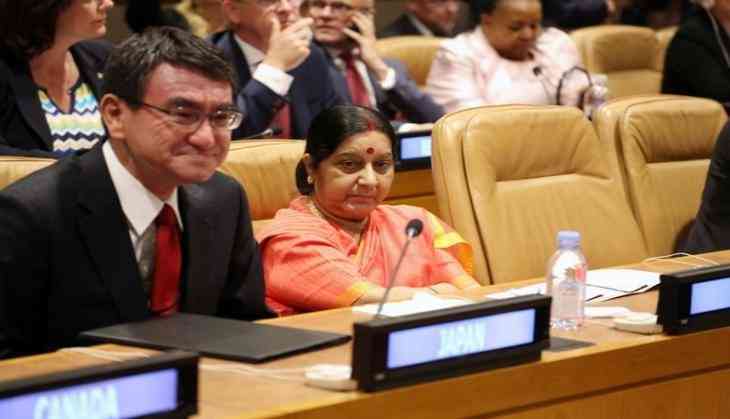 External Affairs Minister (EAM) Sushma Swaraj (ANI)
Indian External Affairs Minister (EAM) Sushma Swaraj has said that India will continue to work beyond the Paris Agreement.
She made this statement during United Nations Secretary General Antonio Guterres' meeting with select leaders on Climate Change in New York on Tuesday.
She said Indian Prime Minister Narendra Modi has stressed that the protection of environment and mother planet is an article of faith for us.
"India will continue to work on this above and beyond the Paris Agreement. Our commitment is for the future generations," she said.
Swaraj added that India was ready to work closely with UNSG and relevant UN agencies, especially in the context of the International Solar Alliance.
The Paris Agreement, Paris climate accord or Paris climate agreement, is an agreement within the United Nations Framework Convention on Climate Change (UNFCCC) dealing with greenhouse gas emissions mitigation, adaptation and finance starting in the year 2020. The language of the agreement was negotiated by representatives of 196 parties at the 21st Conference of the Parties of the UNFCCC in Paris and adopted by consensus on 12 December 2015.
As of September 2017, 195 UNFCCC members have signed the agreement, 162 of which have ratified it.
In the Paris Agreement, each country determines plans and regularly reports its own contribution it should make in order to mitigate global warming. There is no mechanism to force a country to set a specific target by a specific date, but each target should go beyond previously set targets.
-ANI