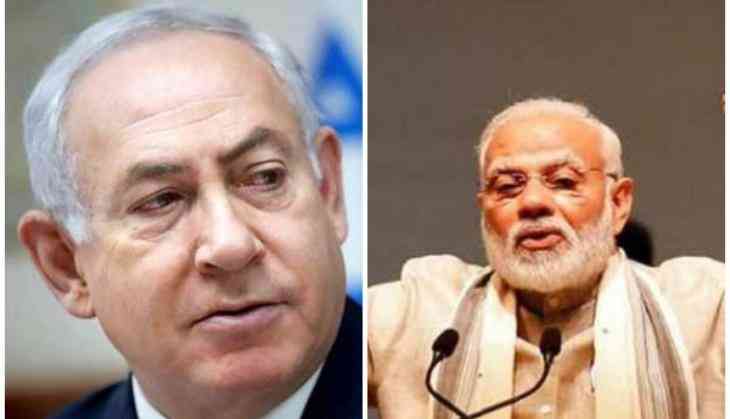 Noting that New Delhi and Jerusalem face one of the greatest common challenges in the 21st century, Israel Prime Minister Netanyahu on Tuesday said that it was imperative to defeat the force of terror that rampage and threaten both the countries' security.
Addressing a joint press conference at his residence in Jerusalem, the Israeli Prime Minister said that both the countries are equal in spirit and have the capacity to accomplish many more opportunities together.
"Although we are unequal in size, we are equal in spirit. We believe we can accomplish great things, and we have accomplished great things. We have many more opportunities to cease together in the future, but I have to say that we also face common challenges," Netanyahu said.
"And the first of it is to defeat the force of terror that rampage through the world and threaten both our countries. So we must stand together in this battle much as we work together to protect the future," he added.
Pointing out that he and Prime Minister Narendra Modi share the same trait of bringing reforms, Netanyahu congratulated his Indian counterpart on the reform undertaken by him to change India's economy.
"We both seek a better future for our peoples, but doing so requires a lot of work, so it won't happen overnight. But PM Modi and I have same trait, we both want it to happen overnight, we are tireless reformers," Netanyahu said.
"I congratulate you on the reforms you are doing to change India's economy and we both believe that we can do together great things for the betterment for the future of our peoples," he added.
Terming Ramanujan as one of the greatest Indian mathematicians, Netanyahu said that Israel greatly admires the people of India and their potentials.
"My late uncle, who was a mathematician professor at the Israel Institute of Technology, told me about his admiration for the great Indian mathematician Ramanujan. He was the greatest mathematician of the 20th century, where he said, he was perhaps the greatest mathematician in many many centuries and this symbolizes the talent of the people of India," he said.
Concluding his address, Netanyahu said, "It's in this spirit my friend Narendra Modi, in this spirit of close cooperation, in deepest friendship that I welcome you here to our home in Jerusalem."
-ANI