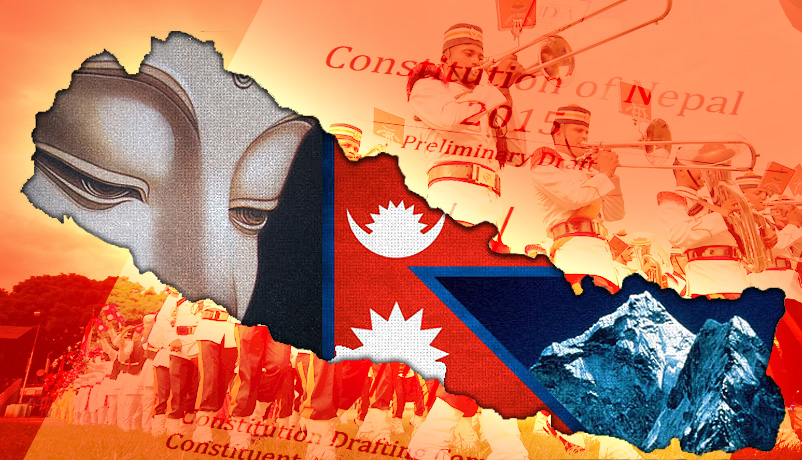 India on Monday welcomed the Nepal government's move to amend the constitution to address two key demands of agitating Madhesis regarding proportional representation and constituency delimitation.
In a statement, the Ministry of External Affairs welcomed the "amendments to the Constitution on participation in the state organs on the basis of proportionate inclusiveness and delineation of electoral constituencies on the basis of population. The demarcation of provinces is also to be addressed through an appropriate arrangement in the Constitution on the basis of political consensus. Similarly, others demands including citizenship are to be resolved through negotiations and consensus". Read the full statement here.
Also Read: India's spectacular policy failure in Nepal
The three-point proposal
The decision to amend the Constitution was taken at an emergency Cabinet meeting at Singha Durbar in Kathmandu on 20 December.
The Constitution Amendment Bill proposes to address issues related to proportional representation of women, Dalits, Janajatis and the Madhesi communities in state bodies and the issue of constituency delimitation.
There is a lack of clarity on the issue of redrawing the federal provinces to meet the demands of the Madhesi community, that has been protesting for four months now.
The Kathmandu Post reported that the government has decided to form a high-level political mechanism to redraw the federal provinces. Nepal's minister for industry Som Prasad Pandey said the mechanism "will recommend solutions to disputes over the proposed provincial boundaries within three months of its formation".
On the protesting Madhesi community, Pandey said, "Besides these issues, the demands related to citizenship and other issues can also be settled through negotiations. So, we urge them to withdraw the protests immediately".
The government is currently waiting for the Madhesi parties to accept the proposal.
A four-month long protest
The Kathmandu Post quoted a leader of the agitating Samyukta Loktantrik Madhesi Morcha, Nepal Sadbhawan Party leader Mahendra Raya Yadav, as saying that Madhesi groups thought the proposal was ineffective.
According to a report in The Kathmandu Post, the regional parties are dissatisfied with the decisions and protests may soon intensify.
Also Read: Nepal must act to resolve the Madhesi crisis. And act fast
Madhesi-based parties have slammed the seven-province model proposed in the Constitution. The parties want different states for the Tharu community and the Madhesi community - in the southwest and southeast of the country, respectively.
Also Read: Nepal blockade: why India must stay the course despite criticism
The blockade at the Birgunj checkpoint, in place since 24 September, has led to a shortage of fuel and essential supplies in the Himalayan country. Over 50 people have been killed in the protests so far.
- With PTI inputs