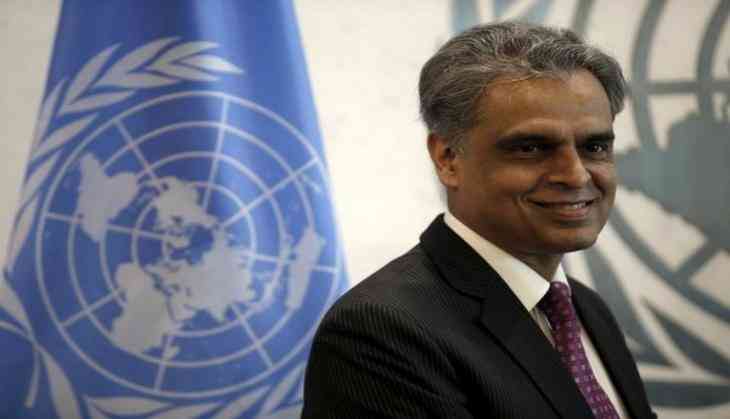 Expressing concern over recent increase of terrorist attacks in Afghanistan that has brought underlying political tensions to the surface, India has raised some significant questions.
Speaking at the UN on the situation in Afghanistan, India's Permanent Representative to the UN Ambassador Syed Akbaruddin has asked as to "Why the attacks and violence in Afghanistan are ignored under the label of anti-Government elements or a consequence of a civil and political conflict. Who are anti-Government elements in Afghanistan and from where they are being assisted with weapons, funds and training."
Akbaruddin insisted that some crucial questions must be answered.
"Where are these anti-Government elements getting their weapons, explosives, training and funding from? Where do they find safe havens and sanctuaries? How is it that these elements have stood up against one of the biggest collective military efforts in the world? How is it that these elements collaborate with the world's most dreadful terrorists in killing and brutalizing the Afghans? How is it that the phenomenal rise of opium production, accompanied with a rise in global narcotics drugs prices, have gone totally unattended by the 1988 sanctions committee? "
Afghanistan has faced some of the worst attacks on its territories. Attacks on hospitals, schools, funerals or international development agencies and diplomatic missions seem to be aimed at sending a message to a nation trying to stand on its feet.
Referring to the lack of action against sanctuaries of the Haqqani network and the Afghan Taliban on Pakistani soil, Akbaruddin said, "International community's first and foremost duty is to ensure that the resurgent forces of terrorism and extremism do not find sanctuaries and safe havens anywhere and at any level. We must not differentiate between good and bad terrorists, or play one group against the other. The Taliban, Haqqani Network, Al-Qaeda, Daesh, Lashkar-e-Toiba, Jaish-e-Mohammad and others of their ilk are all terror organizations, many of them proscribed by the UN. They should be treated like terrorist organizations with no justifications offered for their activities."
"The first and foremost priority of all of us should be to assist Afghanistan in dealing with the humanitarian and security situation in the country, as was outlined by the Secretary General in his report of his visit to Afghanistan," Akbaruddin further said.
Recently, political crisis had been sparked by a terrorist bombing in Kabul's centre on May 31, which was followed by a large street demonstration protesting growing insecurity and had turned violent.
Akbaruddin also said that the Council should meet more often to discuss situation in Afghanistan.
"At times, the Council has even shied away from condemning some of the terrorist attacks in Afghanistan. We would appreciate broader and more informal discussions on the matter with all important stakeholders. In this regard, the international community's assistance to the people and Government of Afghanistan needs to address the gaps between the efforts of the country in nation building and quandaries of death and survival," Akbaruddin said.
Marinating that India is committed to stand with Afghanistan and support and strengthen capabilities to not only fight terrorism and violence but also to aid development and nation building, Akbaruddin said, "India, for its part, will continue to stand, in the words of our Prime Minister stand not behind but shoulder to shoulder, with the democratically elected Government of Afghanistan, while it battles against terror and the multiple crises inflicted on it. Our efforts to this end will be strengthened with the initiation of a direct air corridor between our two countries agreed last December. A few days ago, the first cargo of goods arrived in both our countries overcoming the obstructions our two countries have faced in connecting and trading with each other."
-ANI