Gae Leanza
| Updated on: 13 February 2017, 4:31 IST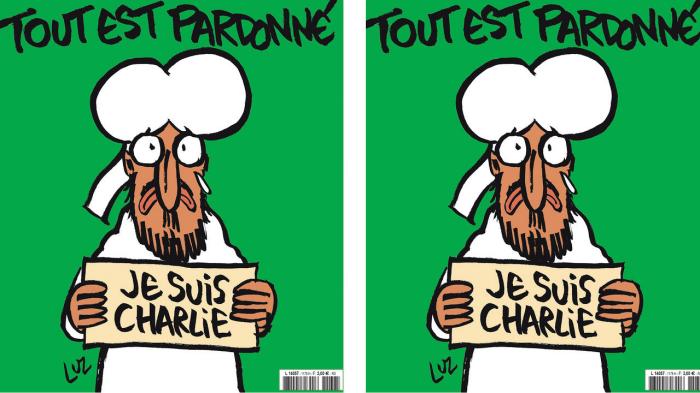 In January, two masked gunmen stormed the offices of Charlie Hebdo, a French satire magazine infamous for its deliberately offensive content. The attack left twelve dead, eight journalists, two police officers, and two bystanders. Afterward, over a million marched in Paris and the Internet erupted with the hashtag "#jesuischarlie," or "I am Charlie." Everyone from German Chancellor Angela Merkel to UN Secretary General Ban Ki-Moon expressed outrage at what was taken to be an assault on free speech.
Now, eight months later, Charlie Hebdo has once again captured the limelight. This time though, no one's crowding the streets in support. Last weekend, the parody paper printed two disturbing cartoons that mocked the refugee crisis:
One depicts drowned Syrian boy, Aylan Kurdi, with the caption, "So close to his goal." written above. Behind Kurdi, a McDonald's billboard displays an advertisement that reads, "Two children's menus for the price of one;" here, the fast-food chain's mascot, Ronald McDonald, stares ahead, smiling, much as he does on Happy Meal boxes across the globe.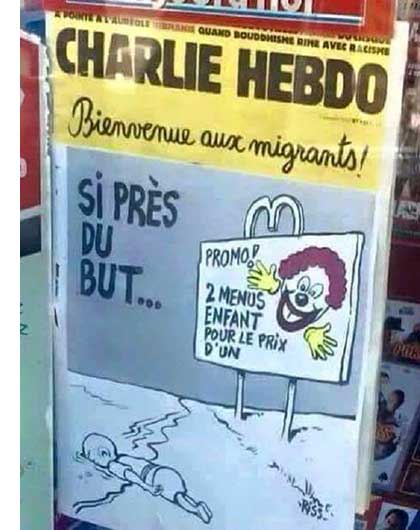 The second image shows a Christ-like figure, eyes shut and a serene grin, standing on the ocean. Nearby, a half-submerged child struggles to stay afloat. All you can see are his feet, flailing.
In bold, it says: "Christians walk on water.Muslim kids sink."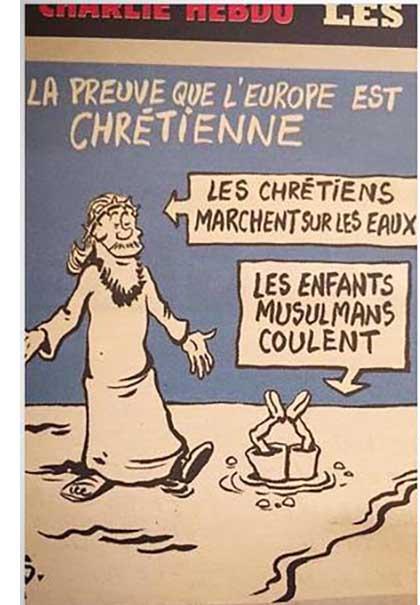 On Twitter, some claim Charlie Hebdo meant to comment on Europe's delayed response to the catastrophe around its borders. But such a position ignores what Charlie Hebdo really is - a weekly that represents the attitudes of the anti-immigrant right in France and, as we've seen, in Hungary too. Their response to the refugee crisis is only the most recent in a long line of deeply Islamophobic comics peddled as emblems of liberty.
With the European Union facing the largest humanitarian crisis since World War II, our moment (or any) does not have a place for satire that strikes at the bottom. What we need, instead, is a press that takes up the responsibility to hold governments accountable, one that doesn't allow leaders to sit back and watch the Mediterranean turn into a mass grave.