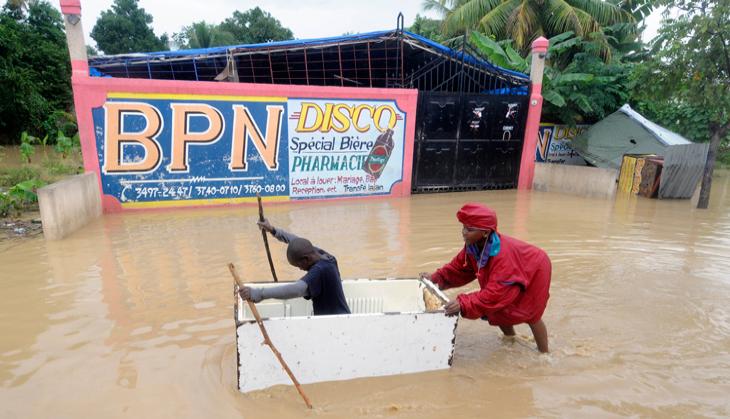 Hurricane Matthew claimed more than 800 lives and left tens of thousands homeless in Haiti on 7 October. The hurricane then hit Florida's Atlantic coast and plowed northward over waters just off Georgia.
According to reports, the death toll in Haiti, the poorest country in America, reached 842.
Matthew triggered mass evacuations along the US coast from Florida through Georgia and into South Carolina and North Carolina.
Meanwhile, US President Barack Obama urged people not to be complacent and to heed safety instructions.
"The potential for storm surge, loss of life and severe property damage exists," President Obama told reporters.
Matthew hit Haiti's western peninsula on 4 October with 145 mile-per-hour (233 km-per-hour) winds and torrential rain. Some 61,500 people were in shelters, after the storm pushed the sea into fragile coastal villages, some of which were only now being contacted, reports an international news agency.
Dozens of people were killed in at least three towns in the hills and coast of Haiti's fertile western tip, with at least 86 people dead and 20 missing in the farming village of Chantal.
According to reports, cellphone networks were down and roads were flooded. Also, at least seven people died of cholera as the flood water got mixed with sewage.
The Mesa Verde, a US Navy amphibious transport dock ship, was heading for Haiti to support relief efforts. The ship has heavy-lift helicopters, bulldozers, fresh water delivery vehicles and two surgical operating rooms, reports the news agency.
In Florida, Matthew hit with winds of up to 120 mph (195 kph) but did not make landfall in the state. The US National Hurricane Center(NHC) graded the storm to a Category 2 where Category 5 is the strongest.
Craig Fugate, director of the Federal Emergency Management Agency, as per the report said that he was concerned that relatively light damage so far could give people up the coast a false sense of security.
"People should not be looking at the damages they're seeing and saying this storm is not that bad," Fugate told NBC.
"The real danger still is storm surge, particularly in northern Florida and southern Georgia. These are very vulnerable areas. They've never seen this kind of damage potential since the late 1800s," Fugate was quoted saying.